Magic Leap finally came out with Magic Leap One, its long-anticipated augmented reality headset. The goggles are dubbed Lightwear, powered by the Lightpack, a small computer that the user mounts on her hip. The two-piece AR device is "engineered to be lightweight and comfortable for hours of exploration," says the company, noting that it combines its Digital Lightfield technology with environment mapping, precision tracking and soundfield audio. Magic Leap founder Rony Abovitz adds that the device also has a powerful CPU and GPU.
VRWorld reports that, "the goggles will come in two sizes, and the forehead pad, nose pieces, and temple pads can all be customized to tweak the comfort and fit." The company says that, by launch, it will also be able to "take prescription details to build into the lenses for those who typically wear glasses."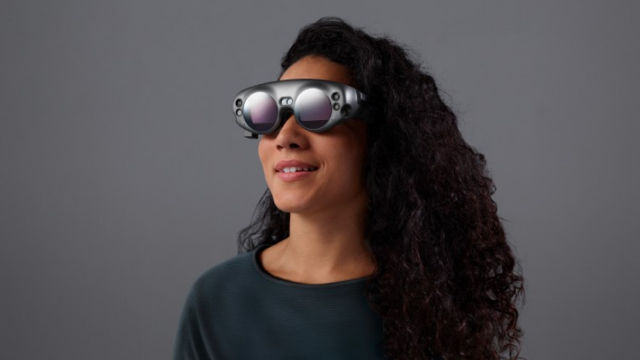 The headset also features four built-in microphones and a "real-time computer vision processor along with six external cameras to track the wearer and the world they're in, in real-time." The new headset was demoed with "the new mixed reality app Tónandi created in collaboration with Icelandic band Sigur Rós."
Magic Leap recently raised $502 million in Series D funding, led by Singapore's Temasek Holdings, for a total venture funding of $1.9 billion.
Time reports that, "even after the big reveal, there are still many lingering questions, including how much it will cost, exactly when it will be released, and precisely what it is that makes the headset different than competing products." But Magic Leap is clearly aiming at a world where users never have to unplug.
"We're trying to balance what it means to be a person and to have a very natural way to still be in the world and have this powerful application and capability," said Abovitz. "We wanted to create the possibility that you have everything the world offers, and everything the computing world offers in a way that's much more ambient, much more seamlessly integrated, [that] doesn't take you out of the world."
Rolling Stone adds that, "some researchers believe the creation could be as significant as the birth of the Internet." At the USC Institute for Creative Technologies, MxR Lab creative director David Nelson says the technology is "moving us toward a new medium of human-computing interaction." "It's the death of reality," he said.
Topics:
AR Headset
,
Augmented Reality
,
Computer Vision
,
CPU
,
David Nelson
,
Digital Lightfield
,
Environment Mapping
,
Goggles
,
GPU
,
Lightpack
,
Lightwear
,
Magic Leap
,
Magic Leap One
,
Microphone
,
Mixed Reality
,
MxR Lab
,
Precision Tracking
,
Rony Abovitz
,
Sigur Rós
,
Soundfield Audio
,
Temasek Holdings
,
Tónandi
,
USC Institute for Creative Technologies