AT&T may have solved the issue of streaming videos over its LTE network in congested areas such as sports stadiums. The company showed a demo of LTE Broadcast during the College Football Playoff National Championship. The LTE Broadcast network can stream high quality videos no matter how many smartphones are trying to tune in at the same time. The new network would also help take a load off of the main LTE network. There is no word yet on when this tech would be available for mobile devices.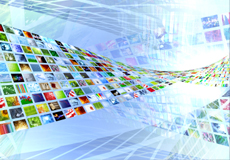 LTE Broadcast works by only pushing data out to users, instead of waiting for the cues from a smartphone. This works best for popular events where the event does not have to cater the experience to every person. The LTE Broadcast method is particularly helpful for people trying to watch a video in a crowded place like a sports arena, according to Engadget. In the demo, the connection was working at 1 Mbps.
AT&T created an app to demo its latest product. The app would show the college football championship game from a high view and video of the two analysts. Ericsson, ESPN, MobiTV, Samsung and Qualcomm all helped build the app and hardware. AT&T made the app for the Samsung Galaxy Note 3, but the software is not on the market yet.
The LTE Broadcast system could eventually be used to push software out to smartphones without the long waiting times. The technology has been years in the making as part of the Long-Term Evolution efforts. AT&T finally showed it last week, in a demonstration that delivered clear video coming across the data networks.