Liquid Image, maker of camera-equipped masks and goggles, has updated its Ego LS 800 wearable action camera with plans to ship this spring. The camera features the ability to record 1080p video at 30 fps, or 720p at 60 fps, while simultaneously live broadcasting over LTE — a first for the camera category. The onboard LTE chipset has been upgraded so that it can stream video over Verizon's LTE network. The Ego LS is not the first action cam to live-stream video, but other cameras use Wi-Fi.
"The Ego LS has Wi-Fi and a 4G LTE sled adds mobile broadband," notes CNET. "The sled features a dual-band chip made by Altair Semiconductor that supports Verizon's XLTE network. It was the need for this support that delayed the launch of the camera."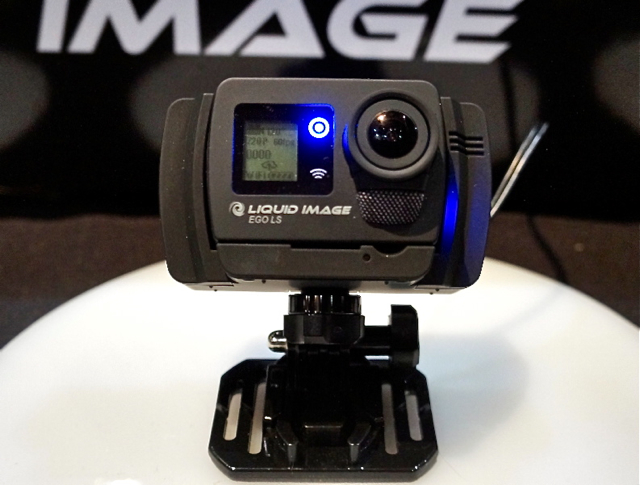 At CES in Las Vegas, the company noted that new metadata support would enable connected peripherals. Partnerships are expected to be announced when the camera becomes available during Q1.
"The camera's Wi-Fi and Bluetooth can also be used to connect to your Android or iOS smartphone or tablet so that you can control the camera as well as pull data from biometric devices, sensors and GPS to add as streaming metadata to the video," explains CNET.
"Pricing remains unchanged from last year: $399.99 will get you the camera as well as the LTE 'sled' that it docks into to allow it to transmit," reports The Verge, adding that "support and certification from Verizon means it will probably be a fairly well-supported option. Just make sure you have a data plan that can support your ambitions — Liquid Image says that 1GB of data should be good for about four hours of recording time, but only on the medium quality setting. Sending full 1080p video over Verizon's network could add up fast."
CES attendees can check out the Ego LS 800 in South Hall, booth #31506.
Topics:
1080p
,
2015 CES
,
4G LTE
,
720p
,
Action Cam
,
Altair Semiconductor
,
Android
,
Bluetooth
,
CEA
,
Consumer Electronics Show
,
Ego LS 800
,
GPS
,
iOS
,
Las Vegas
,
Liquid Image
,
Live Streaming
,
Mobile Broadband
,
Network
,
Sensor
,
Smartphone
,
Tablet
,
Verizon LTE
,
Video
,
Wearable
,
Wi-Fi
,
XLTE