Light Field Lab raised $28 million in funding to scale its holographic display technology from a prototype into a product. Its technology builds large holographic displays out of smaller building blocks, with the aim of creating holographic images that float in space and are able to be viewed without AR/VR goggles, potentially to be used for live events, holographic TVs and other applications. Chief executive Jon Karafin stated that his company's goal is to bring holography up to "hundreds of gigapixels of resolution." German firm Bosch is also developing glasses-free 3D auto displays.
VentureBeat reports that Light Field Lab's initial target is "for live event and large-scale installations." According to the company, "everything around us is a collection of light energy visible through our eyes and processed by the visual cortex of the brain … [and] the 'light field' defines how photons travel through space and interact with material surfaces."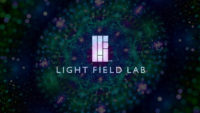 VB notes, "Light Field Lab's technology re-creates what optical physics calls a 'real image' for off-screen projected objects by generating a massive number of viewing angles that correctly change with the point of view and location just like in the real world."
This feat is "accomplished with a directly emissive, modular, and flat-panel display surface coupled with a complex series of waveguides that modulate the dense field of collimated light rays." The viewer then "sees around objects when moving in any direction such that motion parallax is maintained, reflections and refractions behave correctly, and the eyes freely focus on the items formed in mid-air … [so that] the brain says, 'this is real,' without having any physical objects."
In November, the company demonstrated a two-inch transparent holographic image in a six-inch by four-inch space as its basic building block, with "no head-tracking, no motion sickness, and no latency in the display."
"Real-time physics-based rendering is a huge game for everything we're doing, in addition to the fact that they already have plugins for the majority of every software package out there," said Karafin, who noted that LFL aims to debut the technology with "large-scale, high-value entertainment experiences, showing something that is transformational that nobody has ever seen before" but that, ultimately, the technology can be used for "all consumer technologies."
At Verizon Ventures, which was part of the funding round, investment director Kristina Serafim said, "Light Field Lab's innovative solution will help build the 5G future for Verizon's consumer, business, network, and media customers." Karafin said the next generations of the technology will "introduce the ability to touch, feel, and interact with the holograms."
TechCrunch reports, "Bosch is developing new technology that will add glasses-free 3D imaging to future versions of its in-car digital display technology." As needed for "most high-quality glasses-free 3D displays," the technology "also skips eye tracking."
According to Bosch, 3D displays in the car will make "crucial alerts really pop-out" and "parking cameras can present even more accurate 3D views to the driver," among other uses. It's also prepping for future autonomous vehicles, where "in-car immersive displays could be even more of an opportunity to entertain and inform passengers while they're ferried to their destinations." Bosch has not revealed when the technology will be available as a product.
Topics:
3D
,
3D TV
,
5G
,
Augmented Reality
,
Autonomous Vehicles
,
Bosch
,
Cameras
,
Displays
,
Glasses-Free 3D
,
Haptics
,
Head Tracking
,
Holograms
,
Holographic Display
,
Jon Karafin
,
Kristina Serafim
,
Latency
,
Light Field Lab
,
Live Events
,
Motion Parallax
,
Optical Physics
,
Prototype
,
Rendering
,
Television
,
Verizon Ventures
,
Viewing Angles
,
Virtual Reality