Days before CES 2021 opens, South Korean tech company LG Electronics introduced its first-ever LG QNED TV, which marks a significant improvement in brightness and contrast. The LCD (liquid crystal display) TV uses ultra-small LEDs as the backlight; these LEDs are one-tenth the size of those used in its previous LCD TVs, which provide a much brighter picture because more of them can be bunched into a single area. The 86-inch LG QNED TV model, which offers 8K resolution, contains 30,000 LEDs as backlight.
ZDNet reports that the new technology "also allows for more segmented local dimming that increases the contrast ratio." LG also utilized quantum dot and NanoCell technologies to "increase the color accuracy of the new TVs." During the all-virtual CES 2021, LG plans to show ten QNED TV models, in an array of sizes and at 4K and 8K resolutions.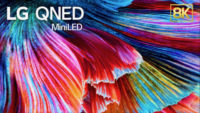 The LG QNED TV "will be the highest-tier product in its LCD TVs, followed by its NanoCell brand," while its OLED TVs "will be its highest-tier offering out of all its TVs." The company also plans to launch new OLED TVs at CES.
Samsung also stated that it would demonstrate its new Mini LED TVs "as part of its QNED brand" and its new 110-inch MicroLED TV at a First Look event before the opening of CES 2021.
In its press release, LG Electronics noted that, with its quantum dot and NanoCell technologies with Mini LEDs as light source, the QNED Mini LED line of TVs demonstrate "brightness and contrast … far superior to that of conventional LCD televisions." "The arrival of LG's QNED Mini LED TVs offer a compelling option for consumers," it says.
"Thanks to a new panel structure enhanced by LG's advanced Mini LED backlighting, these TVs deliver a truly immersive viewing experience in the LCD space," adding that the technology also "offers better contrast and deeper blacks" as well as a refresh rate of up to 120Hz for smooth motion. The 30,000 tiny LEDs produce a contrast ratio of "1,000,000:1 when paired with up to 2,500 dimming zones and advanced local dimming technology."
"Our new QNED Mini LED series is a premium home entertainment option that expands and improves the LCD TV space and gives consumers another terrific viewing choice," said LG's Home Entertainment Company senior vice president of R&D Nam Ho-jun. "These TVs deliver an experience that set them apart from other LCD TVs and speak to our commitment to innovation and pushing the standard forward."
Click here for more information on the speakers, panels and new products at CES 2021 (#CES2021).
Topics:
4K
,
8K
,
Brightness
,
CES
,
CES 2021
,
Contrast
,
Contrast Ratio
,
Dimming
,
Home Entertainment
,
LCD
,
LCD TV
,
LG Electronics
,
LG QNEDT TV
,
MicroLED
,
MiniLEDs
,
Nam Ho-jun
,
NanoCell
,
OLED TV
,
OLEDs
,
QNED
,
Quantum Dot
,
Samsung
,
South Korea
,
Television