In advance of CES 2021, Texas-based computer tech company Dell unveiled the latest in its PC and laptop products. Notable are the Latitude 9420 and 9520 laptops with SafeShutter, which Dell says is the first webcam shutter that automatically opens and closes by synching with videoconferencing applications. These laptops, which are upgraded with 11th Gen Intel Core vPro processors, also have secure mic and mute keys. Additionally, Dell reported that the 9420 will have additional enhancements specific to remote working.
Engadget reports that those enhancements include "better built-in speakers than its predecessors' and camera enhancements that enable automatic light correction and background blur." The 9000 series laptops come in clamshell as well as a 2-in-1 form factor that also offers 5G or 4G LTE and eSIM options. With a spring 2021 release, the Latitude 9420 (below) is priced beginning at $1,949; the company will announce availability and pricing for the Latitude 9520 at that time.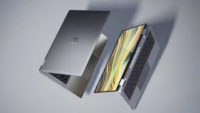 Dell also introduced the Latitude 7520 with a 15-inch 4K UHD display and "an optional full high-definition camera." A "green" option is available with the new Latitude 5000 series and Precision 3560 PCs, whose lids have "21 percent bioplastic content as a step towards achieving Dell's moonshot goal to have half of its products' content be made of recycled materials by 2030."
Both of these products will be available on January 12, priced, respectively, at $1,049 and $1,189. Dell also "refreshed its OptiPlex PC line with the 3090 Ultra, an affordable option meant for small businesses," priced at $659 and up. Starting at $769, the new OptiPlex 7090 "supports up to four 4K monitors at once." Both OptiPlex computers will debut January 28.
CNET reports that the new Ultra models of the OptiPlex "turn the desktop PCs into smartly designed, upgradeable all-in-ones with a proprietary module that slips into a monitor stand or attaches to the back of the display for wall and arm mounts." Although not compatible with all Dell monitors, they do work with "specific models of the UltraSharps (including the new UltraSharp monitors announced at CES this year) up to 40 inches, P and E series models."
The 3090 offers 4GB RAM and an 11th Gen Core i3, whereas the 7090 "can be configured with up to a Core i7-1185G7 (and a vPro secure chipset), up to 64GB memory and a 1TB SSD (or 2TB HDD), including self-encrypting SSD."
Click here for more information on the speakers, panels and new products at CES 2021 (#CES2021).
Topics:
4G LTE
,
4K
,
5G
,
Automatic Light Correction
,
Bioplastic
,
Cameras
,
CES
,
CES 2021
,
Computers
,
Dell
,
Dell UltraSharp
,
eSIM
,
HD Camera
,
Intel Core vPro
,
Laptops
,
Latitude 5000
,
Latitude 7520
,
Latitude 9420
,
Latitude 9520
,
OptiPlex
,
Precision 3560
,
Remote Working
,
SafeShutter
,
SSD
,
UHD
,
Videoconferencing