Although cable companies lost more than a million subscribers last year and Internet viewing is booming, Layer3 chief executive Jeff Binder thinks the future isn't about cutting the cord to cable, but making it better, with improved pictures, design and customer service. That, he hopes, will win over customers struggling to find content online and on cable. Layer3 will debut in Chicago and a few unnamed major cities on the East and West Coasts, at $80 to $150 a month, depending on the number of TVs in a home.
According to Wired, most American TV households pay an average of $161 a month to "some all-in-one service provider," with "crappy customer service, remote controls with way too many buttons, and programming guides that are clunky and incomplete."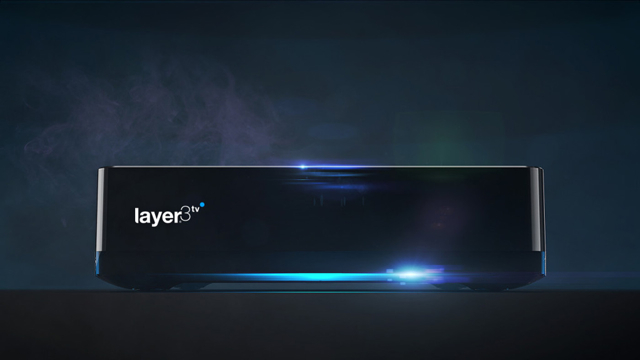 "The traditional experience we have at home seems really outdated," suggested BTIG media/tech analyst Richard Greenfield. "There's a lot of room for taking market share within that."
Layer3 does not rely on the public Internet. Instead, it leased its own IP network, 12,000-mile fiber backbone into the communities it services. For "the last mile" into homes, Layer3 has "struck deals with large infrastructure companies to carry Internet protocol over their networks," which, says Binder, is "a standard business practice in the industry."
Managing its own IP network, says Binder, is one major reason why Layer3 can ensure a better quality video; no traffic jams as with the public Internet. The company is using HEVC video compression that allows it to send HD video to the home "at less than 4 megabits per second." Netflix is able to transmit data at three megabits per second for standard definition and five megabits per second for HD.
Layer3 also offers a channel guide that includes pay TV channels, traditional broadcasters, cable channels and Internet-enabled video, in a design that makes it "easy enough for anyone to find what they want to watch." Layer3 learns to show the viewer the programming she'd most likely want to watch first. Viewers can also log in from mobile devices.
Binder hasn't yet revealed deals with programmers, but, says Wired, "it's safe to say that the service offers the major broadcast, cable, sports, news, kids, and premium channels." Making Layer3 into a healthy business, says Binder, will only require one percent of the pay TV market, "or just less than a million subscribers."