The new San Francisco-based Junction provides wealthy movie fans with an opportunity for investing in films online. It is not another Kickstarter that helps projects get made, but instead allows potential investors to contribute to projects that already have enough finances secured for production. Junction is only open to individuals with annual income of more than $200,000 a year or net worth of $1 million. The incentive for producers is that outside investors will help minimize risk.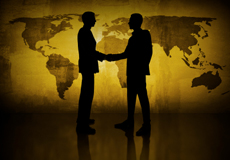 "Led by CEO Adam Kaufman (Goldman Sachs) and president Brian Goldsmith (a former TV producer), the firm will seek to help bolster in-development movies by offering interested parties the chance to invest in them online," reports The Wrap. "Already, financiers such as Silver Reel, Endgame Entertainment, PalmStar, and QED are working with Junction. Top agency CAA is helping them set up investments."
Junction will start by raising finances for films such as "Triple Nine," a John Hillcoat-directed thriller starring Casey Affleck, Chiwetel Ejiofor, Woody Harrelson and Kate Winslet — and "A Hologram For The King," an adaptation of Dave Eggers' novel, with Tom Tykwer at the helm and starring Tom Hanks.
Early Junction advisers include producer Jason Blum and Steve Wynn, CEO of Wynn Resorts.
"Junction represents the latest change brought about by the Jumpstart Our Business Startups Act, or JOBS Act, whose passage in 2012 opened up new ways for companies to raise money. The law has already made it easier for companies to go public by eliminating a number of disclosure requirements," reports The New York Times. "Perhaps its most notable change was that it blessed crowdfunding. Groups of so-called accredited investors — people who either make $200,000 a year or have a net worth of more than $1 million, excluding their home — can band together to buy up a company's equity."
Topics:
Actor
,
Adaptation
,
Blum
,
Book
,
CAA
,
California
,
Celebrity
,
Crowdfund
,
Crowdfunding
,
Development
,
Director
,
Drama
,
Eggers
,
Ejiofor
,
Film
,
Filmmaker
,
Finace
,
Financier
,
Financing
,
Goldman
,
Goldsmith
,
Hanks
,
Harrelson
,
Hillcoat
,
Hologram
,
Invest
,
JOBS Act
,
Junction
,
Kaufman
,
Kickstarter
,
King
,
Motion Picture
,
Movie
,
Novel
,
Online
,
PlamStar
,
Producer
,
Production
,
QED
,
Resorts
,
Sachs
,
San Francisco
,
Silver Reel
,
Star
,
Startup
,
Television
,
Thriller
,
Triple Nine
,
TV
,
Tykwer
,
Wrap
,
Wynn