ETCentric community member Lee Lanselle forwarded us news that Samsung has acquired SmartThings, maker of smart-home controllers, for around $200 million. While SmartThings will continue to operate independently under CEO Alex Hawkinson, its three facilities are expected to move to Palo Alto to become part of Samsung's Open Innovation Center (run by former Google and AOL exec David Eun). SmartThings, which is owned by Physical Graph Corp., began in 2012 as a Kickstarter project.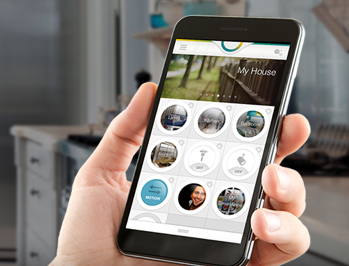 "I think at a high level, it has always been our vision to go really big," said Hawkinson in an interview yesterday. "It's just scale and reach all around the world — imagine reaching hundreds of millions of consumers and many more developers."
"The deal is part of a larger landscape in the home automation space, which has seen a number of significant transactions, most notably Google's acquisition of Nest earlier this year for $3.2 billion," reports Kara Swisher for Re/code. "SmartThings — which debuted its developer platform and products at our D: All Things Digital conference — has focused on doing things like connecting locks, lights and other home devices to mobile apps."
The startup emphasizes its kits and adhesive sensors as part of an open platform to connect routers, apps, devices, home appliances and more.
The open platform is what attracted Samsung. "Samsung has been committed to smart homes and connected devices and has tried to paint this vision for a while," said David Eun. "But since consumers have lots of different devices, the trend is really toward open, and our approach is to be open and protocol agnostic."
"It's all part of the Internet of Things meme that has been the focus of makers of connected devices in the physical world that are operated by smartphones and tablets," writes Swisher.
Editor's Note: Our thanks again to Lee Lanselle, of the Entertainment Development Group and AsiaParks Partners Limited, for being a regular contributor to ETCentric.
Topics:
Alex Hawkinson
,
App
,
California
,
Connected Home
,
D: All Things Digital
,
David Eun
,
Developer
,
Google
,
Home Automation
,
Internet of Things
,
IoT
,
Kara Swisher
,
Kickstarter
,
Lee Lanselle
,
Mobile
,
Nest
,
Open Innovation Center
,
Open Platform
,
Palo Alto
,
Physical Graph Corp.
,
Samsung
,
Smart Home
,
Smartphone
,
SmartThings
,
Tablet