When Nintendo Switch Online debuts today, gamers will have a multiplayer option similar to Xbox Live and PSN. The new service allows users to save online games in the cloud and offers a library of NES games. Subscription prices range from $4 per month, $8 for three months, to $20 for a year and $35 for a family plan with at least two accounts. Gamers can also sign up for a seven-day free trial. Some games, such as "Fortnite," will not require a subscription to play online. The service will debut with 20 games.
Variety reports that, "Nintendo's paid online service includes the ability to create a backup copy of save data for most Nintendo Switch games," and is "the only way a person can transfer game saves between devices." According to Nintendo, "the saved data can be accessed from any Nintendo Switch console by signing in with a user's Nintendo Account and downloading the data."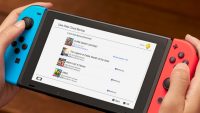 But Nintendo also noted that it does not guarantee the data in the cloud will remain there for an "extended period of time" after a membership expires; "local save data backups remain unsupported on the Switch."
Nintendo said that games can be played for only seven days offline before "needing to check back in on your membership." The smartphone app requires a Nintendo Switch Online membership, and allows players to chat during gameplay. Nintendo issued a schedule of game releases in 2018, "with a promise that the schedule will be updated with games for 2019 once they've been selected."
For the family plan, which supports up to eight accounts, one member is set up as the administrator, with the power to add other people to the account, even if they don't reside in the same country. It appears that the administrator also has the power to add and remove members whenever he wants. With removal, that member loses backup saves and other Nintendo Switch Online benefits. Nintendo stated that a person can only be a member of one "family" at a time.
The Verge reports that Nintendo Switch Online will release "Solomon's Key," "NES Open Tournament Golf" and "Super Dodgeball" in October; "Metroid," "Mighty Bomb Jack" and "TwinBee" in November; with additional titles launching in December. According to the Nintendo Switch website, "anyone with a 12-month subscription will get download codes for special gear in 'Splatoon 2'" and the new "NES controllers will also only be available to online subscribers."
Topics:
App
,
Cloud
,
Fortnite
,
Game Console
,
Gaming
,
Metroid
,
Microsoft
,
Mighty Bomb Jack
,
Mobile
,
Multiplayer Games
,
NES
,
NES Controller
,
Nintendo
,
Nintendo Account
,
Nintendo Switch
,
NIntendo Switch Online
,
PSN
,
Solomon's Key
,
Sony
,
Splatoon 2
,
Subscription
,
Super Dodge Ball
,
TwinBee
,
Video Game
,
Xbox Live