A recent eMarketer survey was conducted to analyze how American Internet users are viewing TV shows. Participants were also asked how they would feel about replacing their televisions with streaming services like Netflix or Hulu. A surprising 80 percent of users said that they would consider the option. The research firm estimates significant growth in the number of viewers consuming digital TV over the Internet within the next four years.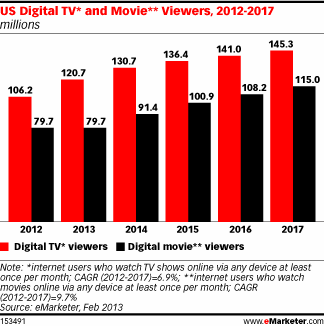 "The number of U.S. digital TV viewers will reach 145.3 million in 2017, up from 106.2 million in 2012," according to the eMarketer report. "The February 2013 figures represent increases ranging from 5.3 percent to 9.3 percent more than the corresponding figures in its August 2012 forecast. Digital TV viewers will cross a critical tipping point in 2014, surpassing 50 percent of the U.S. Internet user population."
This trend makes sense as online services like Netflix and Hulu offer a variety of shows for consumers to watch at anytime and anyplace.
Additionally, viewers can now turn to these services for original content. Netflix, which recently launched its new drama "House of Cards," is available for streaming for $8 dollars a month, considerably less than the cost of most cable offerings.
Netflix reported $2.19 billion dollars in streaming revenue for 2012 as its subscriptions have expanded worldwide, which has also increased opportunities for advertisers.
"Netflix and Redbox are committed to monthly subscription plans, while Hulu offers both fee-based and ad-supported tiers," explains eMarketer. "Amazon is using a membership plan tied to its Prime loyalty program as well as an a la carte tier, while Apple and Walmart are concentrating on the latter model. Others, such as Sony's Crackle, are using strictly ad-supported access, and premium pay TV content channels such as HBO, Showtime, ESPN and Viacom are extending access to existing subscribers via authentication models. The monetization strategies vary as much as the content, and so far it seems the market is accommodating all approaches."
However, this does not mean that the television industry in danger, but rather is shifting to a new platform. According to Quartz, the eMarketer study shows that Americans are watching television more than ever, it just happens to be online. Also, there are those who still prefer television, as 37 percent of the participants strongly disagreed with the idea of replacing their televisions with streaming services, compared to the twelve percent that strongly agreed.
Topics:
Amazon
,
Apple
,
Connected
,
Cord Cutting
,
Crackle
,
Hulu
,
Netflix
,
Online TV
,
Redbox
,
Sony
,
Streaming
,
Streaming Services
,
Television
,
Trend
,
TV
,
Video
,
Viewership