IMAX debuted its new IMAX with Laser digital projection system in London; Dubai; Los Angeles; Seattle; Reading, Massachusetts; and Chantilly, Virginia. The new projection system, which offers 4K resolution, Rec. 2020 color space and up to 60 fps, made use of 120 patents the company exclusively licensed from Kodak. IMAX says the contrast ratio is double that of IMAX 15/70mm film and higher than the 2500:1 contrast ratio of its Xenon lamp systems. The first movie to debut on the system is "The Walk" in 3D.
An Ars Technica reviewer checked out a screening of "The Walk" in 3D at the London venue, and declared it, "by far the most visually impressive cinema experience I've ever had," with a "brighter, sharper picture, along with a wider color gamut and blacker blacks."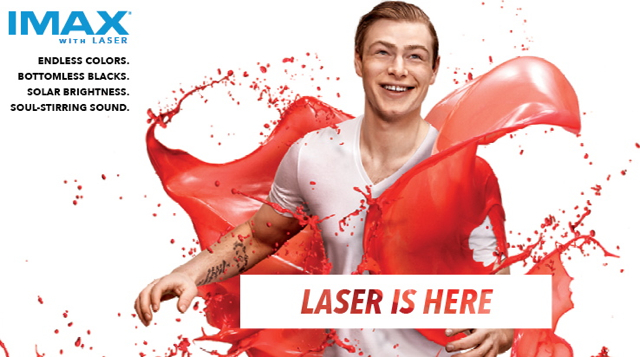 The new laser system uses two side-by-side 4K projectors that create one image via sub-pixel alignment, says Ars Technica, or two images in the case of 3D. The reviewer notes that although IMAX with Laser is said to playback 60 fps, the demos only showed 24 fps and the standard P3 color space.
On seeing a trailer for "The Force Awakens," the reviewer noted that the added brightness helped to address "some of the dimming caused by the 3D glasses." The new system is still based on Texas Instruments DLP chips, with the prism replaced by an "open-frame technology" made of invar, a nickel-iron alloy that increases sharpness and blacker blacks.
The reviewer was less thrilled with the new 12-channel sound system, which adds two more side speakers and four ceiling speakers. "The new system sounded good," he said. "But it wasn't quite as accurate or involving as some newer object-based sound systems that we've listened to recently, such as Dolby Atmos." The London Empire Theater included a new screen as well as black chairs and walls to reduce reflections.
Coming up on IMAX with Laser screens are "Star Wars: The Force Awakens" and the Bond film "Spectre."
Topics:
3D
,
4K
,
Color Gamut
,
Contrast Ratio
,
Digital Projection
,
DLP
,
Dolby Atmos
,
Dubai
,
HFR
,
High Frame Rate
,
IMAX
,
IMAX with Laser
,
Invar
,
James Bond
,
Kodak
,
Laser Projection
,
London
,
Los Angeles
,
Open-Frame Technology
,
P3 Color Space
,
Rec. 2020
,
Spectre
,
Star Wars
,
Star Wars: The Force Awakens
,
Texas Instruments
,
The Walk