Industrial Light & Magic's Experience Lab (ILMxLAB), the Lucasfilm R&D division that prototypes interactive, immersive cinema for VR, augmented reality and theme park attractions, debuted a VR experience of "Jurassic World" at Sundance. Now, it's rolling out "Trials on Tatooine," a VR demo using the same CG models created for "Star Wars: The Force Awakens." Lucasfilm's parent company Disney also just released a new 360-degree video, "Cold Lairs," to tease its upcoming "Jungle Book" remake.
Bloomberg reports that ILMxLAB "made a scene" at January's Sundance Film Festival with its augmented reality Holo-Cinema that let participants "step into Jurassic Park or meet the beloved droids of Star Wars."
"The vision is to design, produce, and release story-based immersive entertainment experiences," said ILM executive Vicki Dobbs Beck.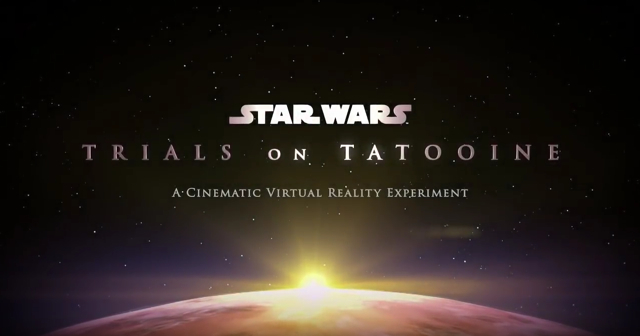 The technology to do so, says Bloomberg, has "gestated at Lucasfilm for more than a decade," as the core team consists of top creative and engineering talent from every division in the company. The Advanced Development Group engineers figured out how to make the Millennium Falcon's massive model render in near real-time, versus the days it took for the feature film. Skywalker Sound built a realistic surround sound system, while storytellers and game designers laid down the storyline.
In the process, the group is "rethinking a century of film techniques," and "discovering the grammar of what works in immersive entertainment."
"The way we do technology development here is really hand-in-hand with the creative goals," said ILMxLAB head Rob Bredow. The group's executive creative director John Gaeta added, "we want to make it plausible for storytellers to imagine allowing the audience inside these worlds as if they exist for real, not limited to fantasy."
Disney released its 360-degree video, "Cold Lairs," exclusively via Samsung's Milk VR app on the Gear VR headsets, but it's expected to arrive on Facebook 360 and "possibly other platforms" next week. Variety notes that the teaser is the second VR experience Disney released to promote "Jungle Book." The first was "Trust in Me," an ambitious VR project that played at select IMAX theaters and is now on Facebook.
The new teaser "puts the viewer into Mowgli's shoes" as he meets King Louie; Baloo also appears briefly. Disney has also participated in a $65 million round of funding for Jaunt, a VR camera manufacturer and content studio, as well as seed funding for Littlstar, a VR distribution platform.
Topics:
360-Degree Video
,
Augmented Reality
,
Cinema
,
Disney
,
Facebook 360
,
Gear VR
,
ILM
,
ILMxLAB
,
IMAX
,
Industrial Light & Magic
,
Jaunt
,
John Gaeta
,
Jungle Book
,
Jurassic World
,
Littlstar
,
Lucasfilm
,
Milk VR
,
Movie
,
R&D
,
Rob Bredow
,
Samsung
,
Skywalker Sound
,
Star Wars: The Force Awakens
,
Sundance
,
Trials on Tatooine
,
Vicki Dobbs Beck
,
Virtual Reality