During this week's IFA 2013 in Berlin, Philips TV 3.0 was unveiled, including a number of cloud-related services intended to change the viewing habits of Philips' Smart TV owners. The company is launching a new Cloud TV app, an over-the-top service that provides access to hundreds of TV channels which can be sorted by genre, favorites and themes. Philips also unveiled the new Cloud Explorer app for storage of personal media such as videos, music and pictures.
According to the press release: "Cloud TV takes TV to the next level by streaming hundreds of local, national, international and special interest channels over the Internet (Over-The-Top or OTT) to Philips Smart TVs."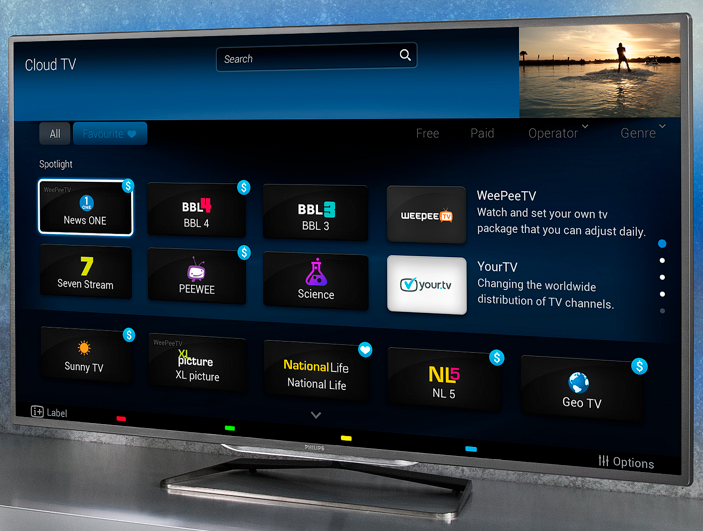 "We have seamlessly integrated cloud services into our Philips Smart TV platform. Users can now benefit from an even wider selection of TV services and overcome the selected choice of cable TV services," said Albert Mombarg, head of Smart TV.
The new cloud services will be available to Philips Smart TV models released in 2012 and later. They will initially be made available to parts of Europe and Russia.
"Streaming live TV channels to smart TV sets and adding cloud-based storage of personal media is another step in the inevitable processes of making set-top boxes superfluous and threatening the business models of traditional platforms such as cable, IPTV and satellite operators," suggests  Broadband TV News. "Most consumers will want to have a single TV set with a single remote control and not be bothered with different boxes for different purposes. This latest development in smart TV is the way forward to offer viewers such convenience."
"Philips may not be a name you readily associate with the future of TV, but by launching its own cloud TV system, the company is trying to sidestep the traditional cable and satellite TV company hegemony," adds Fast Company. "The connected TV market may be heating up, with Samsung as an incumbent and new players like Xiaomi looking to compete. Apple is rumored to have a new Apple TV system on the way, but it's not known if this represents its attempt to change the TV paradigm or not."