Samsung unveiled a prototype of its new smartwatch at the IFA show in Berlin last week. The Galaxy Gear is expected to rival a new wave of devices from Apple, Microsoft, LG, Sony, Pebble and others. The prototype boasts a high quality AMOLED display, 4-megapixel camera, and tiny speakers in the clasp. For those who are concerned about health and fitness, the watch is able to track health data at the gym, measure heart rate, help devise workouts, and track food intake by taking photos of meals.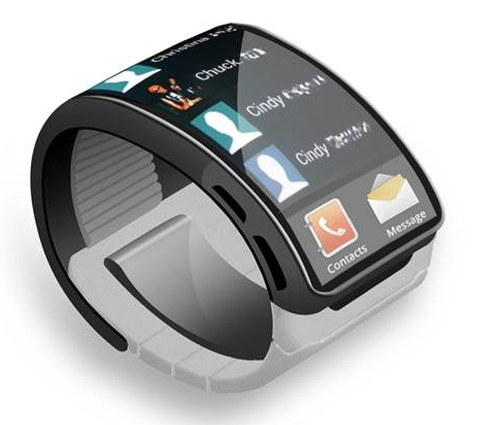 "Take a picture of your food, and you can tag it according to what type of food  it is, such as 'grains' or 'fat,'" reports VentureBeat.
"The watch's health-and-fitness focus is not all that unexpected, given Samsung's  burgeoning interest in health tracking technology. Samsung recently launched its health app S Health, which tracks the number of steps you take via an in-built pedometer, measures the humidity and temperature of the room you're in, and helps you diet-track."
The watch itself is fairly large. Its screen is square, "but large bezels on the top and bottom give it a chunky, rectangular shape." Its colors are basic, but this may change for the final version of the watch. (Check out Engadget for updated pics and a video demo.)
"The smartwatch prototype has Bluetooth to connect with the Galaxy S family of  smartphones and tablets, although it may also connect to all Android devices," explains VentureBeat. "It also has Wi-Fi for Internet access, including email, even when it's not connected to a smartphone."
Other benefits of the watch include 10+ hour battery life, an easy to use swipe function to access apps, the camera and the photo gallery, Samsung S Voice for voice commands, and social media integration.
"The centerpiece of the Galaxy Gear, as you may have read by now, is a 320 x 320-pixel, 1.63-inch AMOLED touchscreen," adds Engadget. "There's a speaker and a pair of mics for recording and playing back video content and communicating with a caller via the built-in dialer, which works with the native phone app in your connected Galaxy device."
"The Gear includes an 800MHz processor, a 315mAh battery, and — in a somewhat surprising twist — a BSI sensor and autofocus lens mounted in the wrist strap that's tasked with capturing 1.9-megapixel stills and 10-second video clips at 720p, 640 x 640 or VGA resolution with sound."
Samsung's smartwatch may mark the beginning of a smartwatch war, as new devices are reportedly in development from some major players and smaller companies.
"Apart from Sony, the leading smartwatch contenders have come from outside mainstream electronics companies, with the Kickstarter-funded Pebble being the most prominent example. That's a sign that the category is not quite yet ready for primetime," suggests VentureBeat.
Consumers may prefer head mounted devices such as Google Glass to smartwatches, but perhaps they will wait to see if Apple and others enter the market before making their final decision.
Related News:
A Look at Every Smartwatch Currently in Development, Digital Trends, 8/22/13
Galaxy Gear: New Samsung Smartwatch to Debut Next Week, ETCentric, 8/26/13
Omate Smartwatch Project Reaches Funding Goal on First Day, ETCentric, 8/23/13
Apple Applies for Trademark in Japan, Paves Way for iWatch, ETCentric, 7/3/13