Sources indicate that Samsung plans to unveil its long-awaited smartwatch device on September 4th at events in Berlin and New York. The Galaxy Gear is expected to feature an OLED with a 320×320 resolution, measuring about 2.5 inches, in addition to a dual-core processor, speakers, camera and support for NFC and Bluetooth. The Android device is expected to compete with similar upcoming products from companies including Apple, Microsoft and Sony.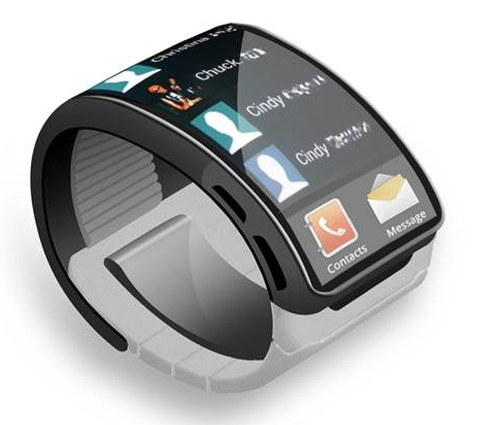 "The watch has a built-in accelerometer that makes it possible to switch it on when it is moved up towards the eye," reports GigaOM. "It could be a great way to wake the watch and also the apps and manage battery power. The watch screen will support the usual touch, swipe and select type gestures but will likely not have text-input, which makes perfect sense given the sheer size of the small screen."
The Galaxy Gear can make phone calls, surf the Web and handle e-mails, but will require integration with a smartphone.
The Galaxy Gear is not a standalone device, like the Omate watch we reported last week. Samsung's watch manager app will enable interaction between the smartwatch and phones and tablets — using a proprietary accessory protocol and Bluetooth LE as the network transport. The Galaxy Gear will also feature integration with Twitter and Facebook.
Sources have told GigaOM that apps for the watch hardware will be available from the Samsung App store, and not from the Google Play store.
While a flexible, curved display is illustrated in Samsung's patent, it is not known whether the initial device will feature such bendable technology. (The image above is from the team at Vouchers Code Pro, which used patent research to offer a preview of what the watch may look like.)
"The Galaxy Gear will initially ship in four color options around week 39 [end of September] — white, orange, gray, and black — though Samsung will be putting catchy names to those colors similar to how they've named their smartphone colors, names that we aren't aware of just yet," reports SamMobile. "Then, a week later, Samsung will start shipping a white gold color variant of the smartwatch, a variant that might or might not be exclusive to specific regions/carriers."
Competition is heating up in wearable technology. "The global watch industry will generate more than $60 billion in sales this year, and the first companies to sell devices that multitask could lock customers into their platform, boosting sales of smartphones, tablets and TVs," suggests Bloomberg.
Numerous companies are said to be working on smartwatch devices, including Apple, Microsoft, Sony and others. The Galaxy Gear could ramp up the competition between Samsung and Apple.
"Samsung became the world's largest smartphone maker last year, overtaking Apple," notes Bloomberg. "The Suwon, South Korea-based company had about 33 percent of the global smartphone market in the second quarter, while the iPhone maker fell to a three-year low as more consumers chose inexpensive handsets from Chinese makers, explains Strategy Analytics."
Samsung's Galaxy S4 smartphone was released in April and the company has plans to launch at least two other high-end handsets this year. The Galaxy Gear is expected to be unveiled on the same day as the Galaxy Note 3, a combination smartphone/tablet.
Related News:
A Look at Every Smartwatch Currently in Development, Digital Trends, 8/22/13
Why I Want Google Now on My Wrist: Content is King, GigaOM, 8/23/13
Omate Smartwatch Project Reaches Funding Goal on First Day, ETCentric, 8/23/13
Apple Applies for Trademark in Japan, Paves Way for iWatch, ETCentric, 7/3/13
Topics:
Accelerometer
,
Android
,
App
,
Apple
,
Berlin
,
Bluetooth
,
Camera
,
Facebook
,
Galaxy
,
Galaxy Gear
,
Galaxy Note 3
,
Google
,
iWatch
,
Microsoft
,
Mobile
,
New York
,
NFC
,
NYC
,
OLED
,
Omate
,
Phone
,
S4
,
Samsung
,
Smartphone
,
Smartwatch
,
Social
,
Sony
,
South Korea
,
Tablet
,
TV
,
Twitter
,
Watch
,
Wearable
,
Wearable Device