Sony announced on Wednesday a new 4K video download service called Video Unlimited 4K, along with the unveiling of two new 4K television models. The announcements are part of a larger 4K Ultra HD initiative from Sony. While the service will initially be available only in the U.S., and challenges may result from the limited number of film and TV titles and the large file size of 4K videos, Sony has plans to expand its offerings and sees a strong future in 4K.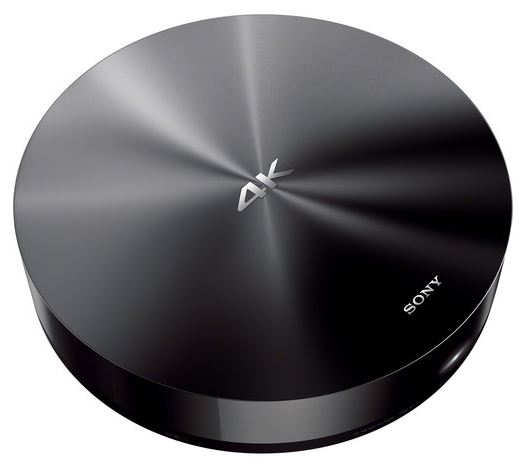 "The company is unveiling a new video download service, that is the final step in the 4K journey it started way back in 2005 when Sony first introduced 4K cinema projectors," reports GigaOM. Sony announced "a brand new 4K video download service, Video Unlimited 4K. For now, it is available only in the United States, but Sony has plans to eventually make it available everywhere."
Sony also unveiled two new 4K TV models (55-inch and 65-inch displays) and decreased the prices on some older 4K TVs. Initially, the new download service will have about 70 full length films in native 4K quality as well as TV shows. The number of available movies will grow to about 100 by the end of 2013.
The Video Unlimited 4K service will require a 4K Ultra HD Media Player (FMP-X1, pictured here) for customers to use for renting or purchasing video content. A TV episode will run $3.99, feature films will start at $7.99 for a 24-hour rental or $29.99 to purchase, and the player will be $700 with 2TB storage and pre-loaded with 10 feature films.
Sony's plan was to systematically pursue the entire video ecosystem, from displays to cinemas to professional video cameras to consumer devices, said Phil Molyneux, Sony Electronics president and COO: "We now have the whole 4K ecosystem, from production to projection to download service to media servers and televisions."
The company faces several challenges, such as the limited number of titles in Sony's download service when compared with Netflix and Amazon. But Sony added the ability to convert 1080p video to near 4K, including Blu-ray video, explains Molyneux.
Another challenge is the file size of 4K movies, typically 45-60GB per film, where large films may take additional time to download and users may reach bandwidth or usage caps set by U.S. broadband providers. New compression technologies like the High Efficiency Video Coding standard (HEVC) will offer 50 percent more compression than the H.264 standard used for video-on-demand, reducing the size of the video files and making distribution more feasible.
The global shipments of 4K TVs will increase from near zero to over seven million units over the next three years, according to NPD Display Research. "People think it is going to take three to four years, but we believe the transition to 4K is going to happen much faster," said Molyneux. "It is the format for the future."
At IFA 2013 in Berlin this week, Sony also announced its VPL-VW500ES 4K projector. Pricing has not been released, but the company says it will be cheaper than its first $25,000 4K projector. With the new model, Engadget reports "you'll get full 4,096 x 2,160 4K resolution thanks to native 4K SXRD panels — technology that Sony lifted from its commercial cinema projectors. Other perks include 1,700 ANSI-lumen brightness (compared to 2,000 for the VW1000ES), a 200,000:1 contrast ratio, 'Super Resolution' Blu-ray to 4K upscaling, Motionflow tech for less blur, and support for HDMI 2.0 — which permits 60fps 4K."
Topics:
1080p
,
4K
,
4K TV
,
Amazon
,
Blu-ray
,
Broadband
,
Ecosystem
,
Film
,
FMP-X1
,
H.264
,
HD
,
HEVC
,
High Efficiency
,
IFA
,
Media Player
,
Molyneux
,
Movie
,
Netflix
,
NPD
,
On Demand
,
Production
,
Projection
,
Projector
,
Rent
,
Sony
,
Stream
,
Streaming
,
Television
,
TV
,
Ultra HD
,
Video
,
Video Coding
,
Video Download
,
Video Unlimited 4K
,
VOD