The annual HPA Tech Retreat, presented by the Hollywood Post Alliance, kicked off in Indian Wells on Tuesday. The February 9-13 event will feature more than 45 sessions, 75 roundtables, 100 speakers and 30 new product demos. "The Big Screen" was the week's first panel. It focused on projection tech, and the promise of HDR, with a look at the potential of Dolby Vision. Panelists included NATO's John Fithian, Todd Hoddick of Barco, David Keighley of IMAX, and Curt Behlmer of Dolby.
Movies and the movie experience are the two things that make motion picture theater owners successful, explained National Association of Theatre Owners (NATO) President/CEO John Fithian, whose organization represents 630 member companies in the U.S. and abroad.

"We can't do anything about the movies but we can about the experience," he said. "In the last decade, we've migrated into the digital era, which was the biggest technical transition in our history."
But the digital transition hasn't stopped, and continuing advances in projection technologies has put theater owners in a difficult spot, he added. "Our members spent all this money on this tradition," he said. "We thought we'd be done, but wow were we wrong! Now we're faced with HDR, HFR, 4D, laser-illuminated projection."
How soon will HDR be available in a significant number of theaters? The answer, according to Curt Behlmer, SVP of content solutions & industry relations at Dolby Laboratories, is "a couple of hundred theaters by next summer."
"But the bigger question is that the industry has to coalesce around what HDR means," he suggested. "What you're seeing is some relatively experimental efforts to see what we can do with the technology."
Fithian enthused over HDR and laser projection. "Lasers are key to us because we struggle with light levels," he said. "The promise of high brightness is really interesting to us. I think there's a big future in HDR."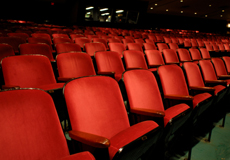 He wasn't as sanguine about High Frame Rate (HFR) cinema, however. "Despite the fact that Peter Jackson and Jim Cameron have brought a lot of money to our box office, I don't think HFR is going anywhere in our industry," he noted. "Jim is still convinced he'll do it for 'Avatar 2,' however, so we're not done with the experiment."
Lagging theater attendance is a central concern for all of the panelists. "Theatrical box office isn't improving the way we'd like," said President of IMAX Post/DKP David Keighley. "How do we get people back in the theater?" His concerns about screen brightness focused on existing standards.
"A lot of us worked really hard on the Digital Cinema specifications, which includes 14-foot lamberts brightness," he said. "But not all theaters do as well as they should. The Academy, SMPTE, NATO — we can do a lot to improve the social experience if we pay attention to the specs we've already built."
Keighley notes that motion picture theater owners are competing with $2,000 52-inch TV sets with 30-foot lamberts. "IMAX is 22 foot lamberts," he added. "But if a theater is running at 8 foot lamberts in 2D, it becomes 2 foot lamberts in 3D. We need to give people a good experience in the theater; we'd all benefit from brighter theaters and get to the standard we set almost 15 years ago."
Barco is experimenting in multi-screen display, displaying "The Maze Runner" in a panoramic display. "It was a huge risk," said Todd Hoddick, VP of global entertainment. "We did that experiment to find out if we were drinking our own Kool-Aid or if it was bringing people away from their laptops and into the cinema. Those are the conversations we need to continue to have. The most important thing is getting it out there, listening to the audience and then making the improvements we know need to happen. It's about having the courage to experiment."
Blacker blacks, ambient light from exit signs, more comfortable seating and overly-bright trailers were other issues brought up by HPA Tech Retreat audience members.
But everyone agreed with Behlmer's assessment. "A lot of what's in cinema with image has been static for many years," he said. "There's a lot of room to improve. All of us are here trying to raise the bar in terms of the experience."
Topics:
4D
,
AMPAS
,
Avatar
,
Barco
,
Cinema
,
Curt Behlmer
,
David Keighley
,
Digital Cinema
,
Dolby
,
Dolby Vision
,
Exhibition
,
HDR
,
HFR
,
High Dynamic Range
,
High Frame Rate
,
Hollywood Post Alliance
,
HPA Tech Retreat
,
IMAX
,
Indian Wells
,
James Cameron
,
Jerry Pierce
,
John Fithian
,
Laser
,
Movie
,
NATO
,
Peter Jackson
,
Projection
,
SMPTE
,
The Maze Runner
,
Theater
,
Todd Hoddick