In GoPro's first ever deal with an educational institution, the camera company and USC School of Cinematic Arts announced that USC students will receive help to distribute, monetize and promote content created with GoPro camera equipment. As part of the deal, GoPro will donate 150 cameras and accessories, and GoPro camera technology will be incorporated into the school's filmmaking curriculum — including education, workshops and one-on-one tutoring — this fall. The cameras will also be used for gaming and VR.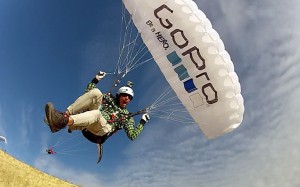 At a kick-off event reported by Variety, Dean Elizabeth M. Daly and GoPro CEO Nick Woodman made the announcement.
"I think we're going to see more and more of them used in professional filmmaking," said Daly. "Another thing that I think is particularly important is the way that these are taking us into VR and gaming and areas that are really emerging for us. We have one project right now that is using VR with Oculus; it would have never been possible if it weren't for having GoPros."
GoPro also unveiled its weekly GoPro Awards, pledging to award $5 million annually via the program; USC students have the chance to receive cash prizes and have their content showcased if selected.
"GoPro Awards recognizes why GoPro is so successful and that's because of all of you pursuing your passions, pursuing your interests, capturing that content and more importantly sharing it and inspiring the rest of the world," said Woodman.
Because the GoPro camera is inexpensive, it's been credited with allowing students and young filmmakers to "focus on content rather than the financial strains and complexities of traditional film equipment," as well as to encourage anyone to pick up a camera and shoot. Woodman says the company hopes to incorporate GoPros as early as elementary school.
"Then I believe that we can create a digital education platform that can grow with somebody as they grow with their use of the camera," he says. "That would be the dream for us."