Following months of acquisition talks with multiple players, Google has announced it is purchasing traffic navigation company Waze. Financial terms were not disclosed, but sources suggest that Google offered more than $1 billion for the free mobile service, which is currently used by more than 50 million people and launched its global ad platform in November 2012. Other Waze suitors reportedly included Facebook and Apple.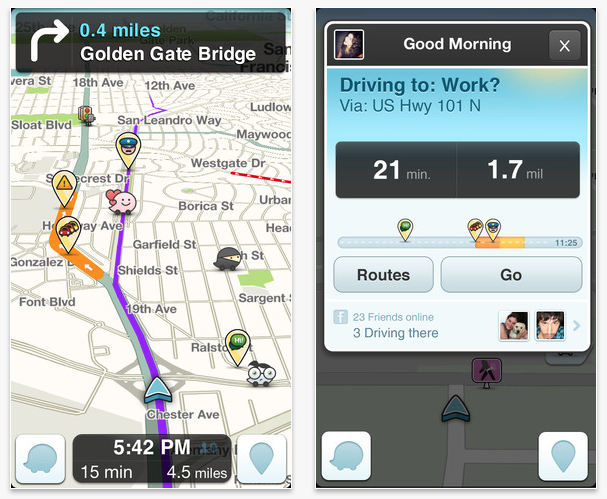 "We are excited about the prospect of working with the Google Maps team to enhance our search capabilities and to join them in their ongoing efforts to build the best map of the world," Waze CEO Noam Bardin explained in a blog post. "We will maintain our community, brand, service and organization — the community hierarchy, responsibilities and processes will remain the same… we will continue to innovate our product and services, making them more social, functional and helpful for everyday drivers."
"Together, we can accelerate our mission to outsmart traffic," he added. "We will continue to make a real impact on drivers globally, helping them save time and money while making everyone's daily commute a bit more efficient and fun."
"The Waze product development team will remain in Israel and operate separately for now," wrote Brian McClendon, vice president of the Google Geo division, on the Google Blog. "We're excited about the prospect of enhancing Google Maps with some of the traffic update features provided by Waze and enhancing Waze with Google's search capabilities. We'll also work closely with the vibrant Waze community, who are the DNA of this app, to ensure they have what's needed to grow and prosper. "
Forbes contributor Robert Hof suggests that most people view the acquisition as a defensive move by Google, since Waze could help beef up its Maps service and keep rivals such as Facebook and Apple at bay. However, Hof contends that the deal may prove more than a defensive move as Waze could provide Google with a means of improving its user engagement and expand Google's crowdsourcing investments — even bring "more overt and useful social context to online services" than what crowdsourcing provides.
He notes the benefits of Waze's social nature: "It can still jumpstart Google+ as a socially useful service — and by extension help make many other Google services more social, which is what the company keeps insisting is the real purpose of Google+ anyway."
Topics:
Acquire
,
Acquisition
,
Ads
,
Advertising
,
App
,
Apple
,
Business
,
Crowdsource
,
Crowdsourcing
,
Facebook
,
Free
,
GEO
,
Google
,
GPS
,
Mapping
,
Maps
,
Mobile
,
Navigation
,
Purchase
,
Search
,
Social
,
Social Media
,
Traffic
,
Waze