According to inside sources, Google may unveil its rumored subscription music services today at the Google I/O developers conference in San Francisco. The company has reportedly signed separate licensing deals with Sony Music Entertainment and Universal Music Group that involve both YouTube and Google Play, the entertainment hub for the Android operating system. Earlier this year, Google signed similar agreements with Warner Music Group.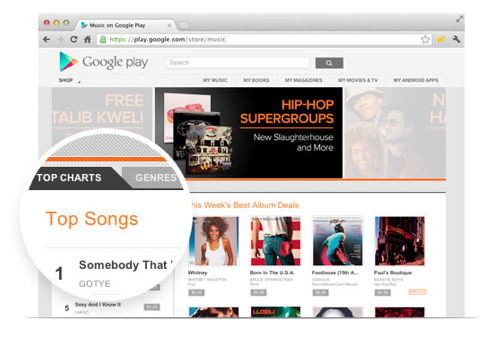 "When Google rolls out the new services… it will mean that it gets the jump on Apple, which is also trying to launch a new streaming-music service," suggests The Verge. "According to reports, Google's subscription services would resemble Spotify, and offer on-demand songs that would be streamed to their PCs and mobile devices."
"In contrast, Apple is working on an online radio service that is said to be more akin to Pandora, a service that plays songs at random similar to traditional radio," adds the article.
While Google Play is a relatively new service, Google is strongly positioned with YouTube, which has more than 800 million unique visitors per month, many of whom are playing music videos.
"The New York Times is reporting that Google's Spotify killer won't offer a free tier for its streaming service. The paper said it wasn't clear how much Google would charge, however. Most subscription music services charge about $10 per month," explains The Verge. "The Wall Street Journal is reporting that as part of its negotiations for music subscription, YouTube is trying to get some kind of an audio-only license."