Roku announced that its channel selections now include Google Play Movies & TV, which allows users to watch films and shows rented or purchased via Google Play. Unlike the Google Play Movies & TV app for iOS, users will be able to access content directly through the Roku channel. This may seem like odd news since Google recently announced its own Android TV streaming box, the $100 Nexus Player, which will launch this month. In related news, Vudu is now available on select TiVo models.
"Google is hoping that TV manufacturers in the coming year will adopt Android TV as a default smart ecosystem of sorts, providing a single platform for developers to create applications that will run on many different TVs," reports Wired.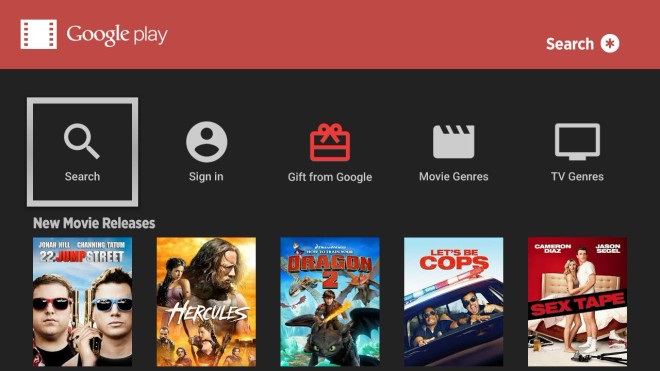 While Roku may be the best standalone STB option today, based on content and number of channels, Google's Nexus Player will "be the first set-top box that duplicates the functionality of Chromecast, allowing users to stream content easily from the Chrome browser on their laptops or via supported apps on their phones," notes the article.
While the move could be a risk regarding the upcoming streamer, Google adds 10 million potential customers for streaming video sales and rentals. It could also help beef up competition with Amazon.
"Amazon recently launched its own Fire TV set-top box and announced its new Fire TV Stick dongle," explains Wired. "Both Google's and Amazon's boxes have similar voice-control features and optional gamepad accessories. But if you look at the apps available for each box, you'll notice a rift: Amazon's Prime Instant Video isn't available on Google's products, and most of Google's services aren't available on Amazon's streamers."
Meanwhile, Walmart's Vudu video service is now available via an app update for TiVo Roamio DVRs and the TiVo Mini, providing access to more than 100,000 movie and TV selections for rent or purchase.
"In addition to feature films, Vudu serves up TV shows from CBS, Comedy Central, HBO, MTV, Showtime and more," reports Engadget. "Of course, the service is already available on the Web, iOS, Android, Roku, PlayStation, Xbox, smart TVs and Blu-ray players."
Topics:
Amazon
,
Amazon Prime Instant Video
,
Android
,
Android TV
,
App
,
Chrome
,
Chromecast
,
Dongle
,
DVR
,
Fire TV
,
Fire TV Stick
,
Google
,
Google Play
,
Google Play Movies & TV
,
iOS
,
Laptops
,
Mobile
,
Movies
,
Nexus Player
,
Purchase
,
Rentals
,
Roku
,
Smartphones
,
STB
,
Streaming Video
,
TiVo
,
TiVo Mini
,
TiVo Roamio
,
TV Shows
,
Voice Control
,
Vudu
,
Walmart