Microsoft and Google are engaged in efforts to enable people to play triple-A games — the most visually complex, big budget games — on devices that are not connected to the Internet, without expensive specialized hardware. The two tech behemoths join game developer Electronic Arts in this 10+year push to allow gamers to stream from the cloud, anytime and anywhere, attracting those who don't want to buy game consoles or high-end PCs. The move might also tempt existing gamers to play more and spend more time and money.
The Wall Street Journal reports that, according to Newzoo, "game-software revenue rose 59 percent to $121.7 billion worldwide between 2013 and 2017, and this year is on track to reach $134.9 billion." At Foundry Partners, which "invested roughly 2.1 percent of its $11.3 million midcap-growth fund and 1.7 percent of its $8 million active-growth fund in Electronic Arts in late September," portfolio manager Mark Demos said that, "the revenue pie probably will grow faster."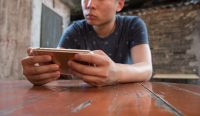 In comparison, the MPAA reported that box office and home movie receipts "reached a global record of $88.4 billion in 2017," and the International Federation of the Phonographic Industry said that, "global recorded-music revenue, including streaming, was $17.3 billion in 2017."
Streaming games from the cloud, said Microsoft corporate vice president of the gaming-cloud unit Kareem Choudhry, will enable them "to reach a customer who isn't perhaps as easily reachable today." Of the billions of people with Internet access, "we know they're not all going to buy a console," he added. But streaming games is technologically challenging, because even a half-second latency "could be the difference between winning and losing in competitive games such as 'Call of Duty'."
That's why streaming games has thus far failed, but Sony PlayStation Now and Nvidia GeForce Now are trying to make it work. Nvidia general manager of its cloud-gaming unit Phil Eisler notes the latency is now "minimal," and industry experts believe "the spread of data centers and deployment of next-generation wireless, known as 5G, will" soon make it possible to stream triple-A games.
Google is testing streaming on just such a game, "Assassin's Creed Odyssey," on its Chrome browser for laptops and PCs. When streaming games is completely viable, publishers can lure more players into subscriptions, more lucrative than selling individual games.
"Streaming is a mass-market opportunity," said Piper Jaffray senior research analyst Mike Olson. One potential path for the future is for "cloud-computing companies such as Amazon [to] launch competing apps with broad selections of games and services such as player matchmaking and chat," similar to what Sony, Microsoft and Nintendo do on their consoles. Or, publishers like Activision Blizzard with large content libraries can "release their own apps for an array of devices … [or] could cut exclusive deals with device makers such as Apple."
Topics:
5G
,
Activision Blizzard
,
Amazon
,
Apple
,
Assassin's Creed Odyssey
,
Call of Duty
,
Chrome
,
Cloud
,
Electronic Arts
,
Foundry Partners
,
Gaming
,
Google
,
IFPI
,
Kareem Choudhry
,
Mark Demos
,
Microsoft
,
Mike Olson
,
MPAA
,
Newzoo
,
Nvidia GeForce NOW
,
Phil Eisler
,
Piper Jaffray
,
Sony PlayStation Now
,
Streaming
,
Triple-A