Google Glass has the potential to change the way video entertainment is created, distributed and viewed. But there are concerns about the potential violation of personal privacy. To some, the benefits outweigh the concerns in that Glass can deliver exciting new ways to create and consume films, documentaries, TV programming and video games. However, many businesses are ready to ban the device, such as movie theaters, bars and hospitals.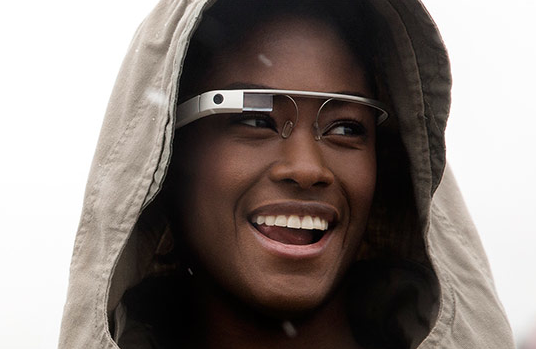 Some states are considering prohibiting Glass in cars, and Google itself barred it from their June stockholder meeting, according to Variety. The film industry is especially concerned in regards to piracy.
"The National Association of Theater Owners is mulling policies that may require Glass to be checked at the door of movie theaters to protect against the rampant piracy it could produce," reports Variety.
"The film business is right to be excited about Google Glass on the one hand and concerned on the other," says Steven Rosenbaum, CEO of Magnify.net, an online-video platform startup. "You can't separate the two. It will open us up to a lot of new (opportunities), but it could also open up a lot of problems."
Glass combines two types of technologies in a user friendly and convenient way. It has a nearly invisible camera that can take pictures and video from a first person perspective, and a small, ever present display screen at eye level that can augment reality.
Google Glass has the potential to disrupt video capture and filmmaking since users can create new types of video footage in new formats and perspectives. Similar to video cameras, the small size and convenience gives filmmakers another easy production tool.
This new technology can also change how users consume video, and influence what video is made for it. Glass adds a new layer of the viewing experience, as a second screen to add further content or context to the first, or an ever present feed of content.
"Glass is not designed to watch a movie; there are other things for that," explains Thad Starner, technical lead and manager at Google Glass. "But Glass is designed for updates and quick snippets. It's a new way of thinking about distribution."
With new narrative or multiple narratives being created, Glass may bring new forms of video entertainment. But this may make film and television programs difficult to compete with all new forms of user-generated content.
Topics:
Augmented Reality
,
Camera
,
Disruptive
,
Eyewear
,
Film
,
filming
,
Game
,
Glass
,
Google
,
HMD
,
Magnify.net
,
Movie
,
NATO
,
Piracy
,
Privacy
,
Programming
,
Rosenbaum
,
Screen
,
Second Screen
,
Starner
,
Startup
,
Technology
,
Television
,
TV
,
Video
,
Wearable