As Internet browsing via mobile devices continues to become the norm, tech companies are scrambling to add new functionality to the scaled-down mobile versions of their sites. In the coming weeks, Google plans to introduce buy buttons to its mobile search-result pages. The buttons will direct users to other Google product pages where purchases can be made (products will be sold by retailers). The move is seen by many as an effort by Google to create an online marketplace to take on leaders such as Amazon and eBay.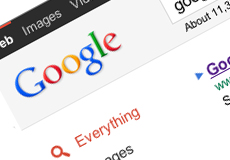 "The buttons will accompany sponsored — or paid — search results, often displayed under a 'Shop on Google' heading at the top of the page," reports The Wall Street Journal. "Buttons won't appear with the nonsponsored results that are driven by Google's basic search algorithm."
While products will be provided and sold by individual retailers, Google product pages will include the necessary details — such as size, color, shipping options — in order for consumers to complete purchases.
Retail operations including Macy's are reportedly in discussions with Google. However, some companies are said to be hesitant about negatively affecting their relationship with consumers.
The buy buttons could also cause regulators to look more "closely at Google's dominance of search and mobile," suggests Digital Trends.
"The move marks a major and potentially risky strategy shift that will turn the company into more of an online transactional business, rather than simply a provider of links to information elsewhere on the Internet," notes WSJ.
Topics:
Advertising
,
Amazon
,
Brand
,
E-Commerce
,
eBay
,
Google
,
Internet
,
Internet Browsing
,
Macy's
,
Mobile
,
Mobile Search
,
Online Purchases
,
Retail
,
Search
,
Shop on Google
,
Shopping
,
Smartphone
,
Tablet
,
Transaction