At the Game Developers Conference, Sony announced that its anticipated PlayStation VR headset would cost $399 when it is released in October (a $499 launch bundle will be available for preorder beginning Tuesday). The headset connects with Sony's PlayStation 4 console and features a 5.7-inch screen and multiple sensors that enable 360-degree head tracking. Sony hopes its PlayStation VR — which Tom's Guide awarded Best of Show — will help bring virtual reality to the mainstream. While competitors such as Oculus Rift and HTC Vive will be available sooner, they require powerful PCs to run their software.
With more than 36 million PS4 units sold, Sony already has a significant customer base that can access VR games and apps.
"We leveraged our expertise across engineering and industrial design to create a VR system with the most compelling experiences," said Andrew House, chief exec of Sony Computer Entertainment, on stage at GDC.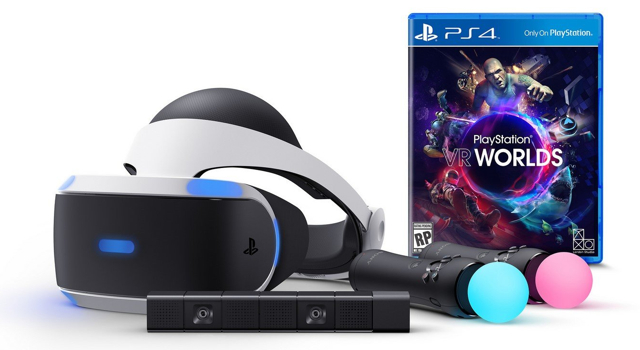 Sony VR users who do not opt for the bundle will need to purchase the $44 PlayStation Camera, which, when combined with the $349 PS4, makes the total cost of a PlayStation VR system about $800. Some gamers may also opt for the $40 Move, Sony's motion-based controller.
Sony just announced that the $499 bundle, "exclusively for pre-sale and in limited quantities" will be available through retailers starting Tuesday. According to The Verge, "it includes the core PlayStation VR device plus a PlayStation Camera and two PlayStation Move controllers," in addition to "PlayStation VR World."
Sony's VR system "undercuts the price of the Oculus and HTC headsets," reports The New York Times. "Oculus is selling its Oculus Rift headset for $599, or $1,500 when combined with a computer. The Vive from HTC costs $800 for the headset, and a computer that supports it would cost more than $1,000."
"Even with the Oculus Rift and HTC Vive about to land in gamers' hands, it was PlayStation VR that had the biggest presence at GDC," suggests Mike Andronico writing for Tom's Guide.
"Sony's VR headset made big waves with its $399 price, which, despite some missing accessories, is still far more affordable than the $599 Rift or $799 Vive. PlayStation VR titles such as 'Rigs,' 'Rez Infinite' and 'Golem' prove that the PS4 is more than capable of providing memorable virtual reality experiences, and the headset's theater mode adds a new layer of immersion to your regular games and movies."
Related:
How PlayStation VR compares with Oculus Rift, Vive, CNET, 3/16/16
Sony Drops A Bomb: Playstation VR Will Be $399, Forbes, 3/15/16
PlayStation VR vs. Oculus Rift vs. HTC Vive: Here's How They Stack Up, Popular Science, 3/18/16
PlayStation VR's Processing Unit Doesn't Add Any Power to the PS4, Polygon, 3/16/16
Topics:
Andrew House
,
Apps
,
Facebook
,
Game Developers Conference
,
Gaming
,
GDC 2016
,
Golem
,
Head Tracking
,
Headset
,
HTC Vive
,
John Koller
,
Mike Andronico
,
Motion Controller
,
Move
,
Movies
,
Oculus
,
PlayStation 4
,
PlayStation Camera
,
PlayStation VR
,
Rez Infinite
,
Rift
,
Rigs
,
Sony
,
Theater Mode
,
Tom's Guide
,
Video
,
Virtual Reality