Tony Christopher, president and CEO of Landmark Entertainment Group, is currently developing a Virtual Worlds Fair. The project started with a discussion with Steven Spielberg 20 years ago, and is currently moving forward with funding from Chinese backers. The fair will feature four key areas: Dataland, an entertainment and education VR experience for children; Intencity, for branded VR experiences; Passportal, to virtually experience the wonders of different countries; and the Tower of Humanity, to celebrate the planet through virtual experiences.
During a session at this week's Game Developers Conference, Christopher provided details on the fair's attractions.
Dataland is intended for children, and its environment will evolve appropriately as the child grows. Intencity "will showcase some of the world's greatest advancements in technology, design and art through pavilions and exhibitions hosted by major brands, countries and organizations," explains the press release.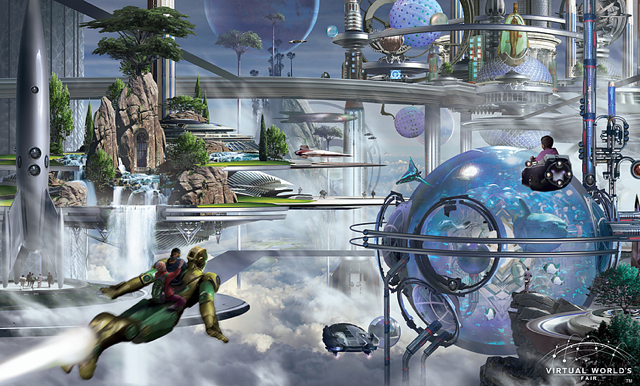 Passportal will feature experiences funded by countries and/or their offices of tourism to allow guests to virtually experience their countries, including "exotic destinations and international events such as national parks and monuments, capital cities, concerts, international festivals and holiday festivities." The Tower of Humanity will celebrate the planet, educate people about global problems through virtual experiences, and provide support for charities.
Christopher's discussion of the Virtual Worlds Fair was a preamble to his 10 Commandments for Creating Branded VR Worlds:
1. Create an experience that tells a story. Don't do it the other way around.
2. The soundtrack is 50 percent of the success of the experience. Hire the best composers. Use spatial audio.
3. Create a monetization plan. No one is making money from VR yet.
4. Create a distribution plan.
5. Let people explore. Make it easy for them to have a satisfying experience.
6. Quality design is important.
7. Use light, sound, action, and other tools to direct the 360 experience.
8. Make it emotionally engaging.
9. Brand it with compelling characters.
10. Observe patterns. Design and enhance the experience in response to the patterns you see in your audience's actions.
Christopher closed with a call for more effort to develop and document the unique language of VR.
Topics:
Brand
,
Charities
,
China
,
Dataland
,
Education
,
Game Developers Conference
,
GDC 2016
,
Intencity
,
Landmark Entertainment Group
,
Passportal
,
Promotion
,
Retail
,
San Francisco
,
Spatial Audio
,
Steven Spielberg
,
Theme Park
,
Tony Christopher
,
Tourism
,
Tower of Humanity
,
Virtual Reality
,
Virtual Theme Parks
,
Virtual Worlds Fair