Gannett is once again experimenting with ways to approach journalism through virtual reality technology. This time, the company created the "World Championships Skiing Virtual Reality Experience." Viewers can be transported to Vail, Colorado where they can watch the skiers train and hang out — or even ski down the mountain themselves. The experience features 360-degree footage of the FIS Alpine World Ski Championships and there is a 2D version for people who do not have access to an Oculus Rift.
There still is not a huge audience for the "World Championships Skiing Virtual Reality Experience" yet because of the limited availability of Oculus Rift headsets. The product hasn't even officially hit the market yet; the current headsets are still billed as developer kits. However, Steven Ahlberg, vice president of ad solutions and product management at Gannett Digital, believes this medium has great storytelling potential for journalism.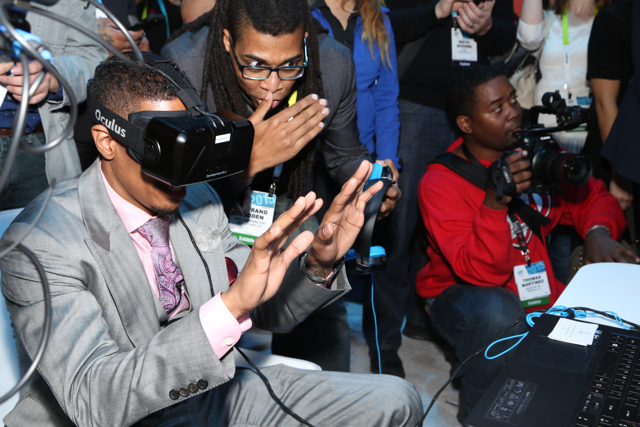 Ahlberg's team, in partnership with Gannett's local news channel KUSA9 and participation from the Vail Valley Foundation, put together this VR experience within four weeks. Technology with 360-degree cameras has advanced so quickly that the team was able to shave a couple of months off the project timeline.
Last year, the company released a virtual tour of a farm on the Oculus Rift to accompany the set of stories published in the Des Moines Register. "Harvest of Change" took three to four months to complete.
TechCrunch, which was given a demo of the new VR experience at CES in Las Vegas, says the Oculus Rift project is getting interest from other journalists, so Ahlberg doesn't believe this is "niche, navel-gazing stuff." For future projects, Ahlberg hopes to produce more VR content that is serialized so that viewers will have the chance to follow a story through several experiences.
Also, he hopes to include more advertising. In the skiing project, the makers included an advertiser's cars in the replica of downtown Vail.
Topics:
2D
,
360 Degree
,
3D
,
Advertising
,
Alpine World Ski Championships
,
CES
,
Colorado
,
Des Moines Register
,
Explanatory Journalism
,
FIS
,
Gannett
,
Harvest of Change
,
HMD
,
Journalism
,
Oculus Rift
,
Serial Content
,
Skiing
,
Steven Ahlberg
,
Storytelling
,
Train
,
Vail
,
Virtual Reality
,
Virtual Reality Experience
,
VR