Sometimes a smartphone's surface is just not big enough to make the most of mobile and social gaming. Even today's largest smartphone screens have limitations that can hinder the multiplayer gaming experience. That is where Fuffr comes into play. The company has designed a mobile case that projects infrared lights to the surrounding areas of the phone, so that these areas too, can be used as multitouch surfaces for gameplay and a variety of other applications.
According to TechCrunch, the Santa Clara-based company "[sees] potential for the tech in other scenarios where you might not want to or easily be able to touch the screen — such as cooking or when wearing gloves." You may not want to touch your phone with your greasy hands to scroll down a recipe, but wouldn't it be easier if you could scroll to the left or right of whatever surface is surrounding your phone?
While there are an array of potential applications, Fuffr has decided to initially focus on game play.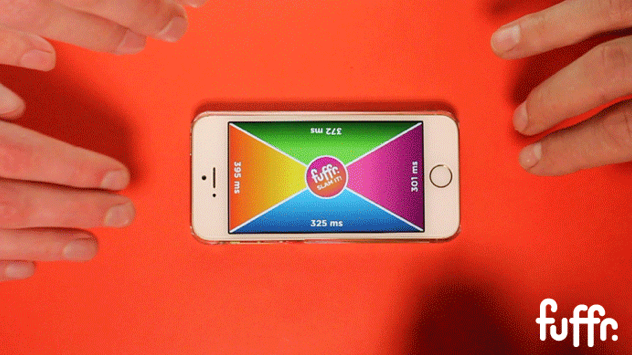 While others have attempted to develop effective gesture-based interfaces, Fuffr believes it has the technology to improve the mobile multiplayer gaming experience. The infrared light technology works so well that the surrounding surfaces can reportedly be used to reproduce similar effects of pinch-to-zoom, swiveling, and rotating that can be done on a smartphone's screen.
The design of the Fuffr case is complete and the technology has been tested to work. The case, which is initially being built for iPhones (with plans for Android in the future), will retail at $59.
Fuffr has developed five games to work with the technology. TechCrunch reports that the company sent SDKs to over 200 developers so that they could begin creating games and apps.
The company launched a $250,000 Kickstarter campaign to meet the costs of completing product development and manufacturing. However, despite generating some positive press and being labeled as a Kickstarter Staff Pick, the campaign earned less than $12,000 in pledges. As of press time, the Kickstarter project page indicates that "Funding for this project was canceled by the project creator 3 days ago." It is unclear whether the company found its funding elsewhere.
Topics:
Android
,
Apps
,
Crowdfunding
,
Developers
,
Fuffr
,
Gamers
,
Games
,
Gaming
,
Gesture Control
,
Gesture Recognition
,
Hardware
,
Infrared
,
iOS
,
iPhone
,
Kickstarter
,
Mobile Gaming
,
Multiplayer
,
Multitouch
,
Santa Clara
,
SDK
,
Smartphones
,
Social Gaming
,
Software