User-generated content is surging on a new front: gaming. Epic Games is teed-up to challenge Roblox in the race to become what one media outlet called "the YouTube of gaming" as they lay the groundwork to empower individual creators. While Roblox is all about user-generated games, Epic is inviting creators in to riff on its popular Fortnite world. Roblox, which draws a younger crowd, is said to have about 400 registered users, while battleground Fortnite has about 300 million. Meanwhile, with the growing popularity of UGC gaming, these giants now have game platforms dot big bang and CliCli nipping at their heels.
"We're racing toward a world where Fortnite and Roblox could rival Steam and the App Store in terms of the size of their game libraries. Both have growing ecosystems of millions of players who build and spend time in custom battle royales, chat rooms, and all kinds of other games," writes The Verge, which made the YouTube comparison.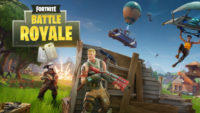 Roblox was founded in 2004 while Epic launched Fortnite in 2017. Dot big bang, which is browser-based, has been around since 2016, when its founders, inspired by platforms like Roblox and Minecraft, launched a platform designed to allow people to create and play games without any programming experience.
CliCli — an easy-to-use, lightweight game publishing tool — appeared in early access in July, then had a splashy Game Developers Conference (GDC) debut last month, backed by what The Verge calls "a generous investment from Chinese gaming and Internet giant NetEase." They're all focused on a lucrative market that has hundreds of millions of players worldwide.
"[UGC] is a very critical thing, right?" Epic Games CEO Tim Sweeney told The Verge, sharing his vision of how UGC will mix with the metaverse, explaining "the future is primarily about the work of everybody in the world, and we're a very small, small part of that."
While the DIY game-building tools are thus far rather simplistic, and generally produce simple games, as the tools steadily improve so too do the horizons for individual game creators. "Epic has taken a huge step in that direction with Unreal Editor for Fortnite," says The Verge about new tech the company launched in public beta at GDC.
"Epic confirmed that Fortnite currently carries 70 million monthly average users, while Roblox has reported that 250 million players bounce from game to game every month on its platform," The Verge reports, noting that is "a far cry from the more than 2 billion people who use YouTube every month, but it's not hard to imagine one or more of these platforms gaining that type of audience in the next 20 years," as "the tools and economies of these systems evolve."
"Nobody knows what gamers want more than the gamers themselves," writes Bloomberg, adding that "in 2022, 4.2 million people made their own games using Roblox's game development tools and earned their own in-game currency." Bloomberg quotes Epic Games EVP Saxs Persson calling these gamer-developers "citizen creators."
YouTube allows video creators to "start small with no barrier to entry. It lets them get a kind of modest income, just kind of do it as a side thing, grow a channel, and then become a full-time creative with equitable pay," Robert Anderberg, CEO and co-founder of dot big bang owner ControlZee, told The Verge, adding, "I think that's really the future."
Related:
Roblox UGC Limiteds Are Now Available in the Marketplace, Pocket Tactics, 4/7/23
What Are Roblox UGC Limited Items?, Sportskeeda, 4/7/23