The Pixel 6 and 6 Pro smartphones are here, complete with a profound hardware upgrade, capably showcased in the camera system, which benefits from a processing boost thanks to Google's new Tensor mobile chip. Basically, Google has completely redesigned its flagship phone, adding bold colors and improving the camera to a degree that should make it competitive with other high-performance phones. While it's been noted that some of what are being billed as the camera's Android 12 features exclusive to Pixel 6 have previously been offered on other phones, Google's configuration appears to be unique.
Google says the revamped chassis comes with 80 percent faster performance over Pixel 5. A 6.4-inch Full HD screen showcases images from the 50-megapixel main rear camera (which boasts a 12-megapixel wide angle lens) and front-facing 8-megapixels highlight the entry-level Pixel 6, proffered at "more than 24 hours" of battery life.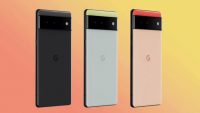 "For $300 more, the Pixel 6 Pro offers a sharper 6.7-inch 1,440p screen that goes up to 120Hz and has narrower bezels," writes Engadget. "The Pro also adds a 48-megapixel telephoto lens with 4x optical zoom, and its 11.1-megapixel selfie camera is both sharper and packs a wider-angle lens."
Pixel 6 Pro aims for Tensor's pledge of up to 48 hours of battery life and comes with 12GB of RAM. The Pro tops out at 512GB of storage and has ultra-wideband to optimize sensor capability, including on spatial orientation.
The Pixel 6 Pro has curved sides and slim bezels, while the Pixel 6 flat panel has a slightly larger bezel on all sides. The 6.4-inch panel on the Pixel 6 features FHD+ at 1080 x 2340 pixel resolution (pixel density of 411 PPI), while the max refresh rate of 90Hz was also available on the Pixel 5. The Pixel 6 Pro offers a 6.7-inch QHD+ screen with a robust 1440 x 3120 pixel display (or 512 PPI), and a maximum refresh rate of up to 120Hz.
The display technology is also different. Pixel 6 has an OLED screen, while Pixel 6 Pro touts a fancy LTPO panel that offers a context-sensitive variable refresh rate (starting at 10Hz) that is easy on the battery (same as the ProMotion 120Hz OLED panel on the iPhone 13 Pro duo, according to Screen Rant). Significant voice recognition enhancements courtesy of Google AI are also part of the Pixel 6 family promise.
The Google Tensor chip that powers both models is quite a leap forward for mobile, featuring "an octa-core system comprised of two 'Prime' ARM X1, two big and four small CPU cores," writes Engadget in a separate post. "Both phones also have in-display fingerprint sensors, IP68 protection ratings, support for sub-6, mmWave 5G" and Wi-Fi 6E.
The Pixel 6 is now available for preorder for $599; the 6 Pro for $899. The units hit shelves on October 28.
Topics:
5G
,
Android
,
Android 12
,
Apple
,
Arm Cortex-X1
,
Artificial Intelligence
,
Batteries
,
Battery Life
,
Camera
,
Chip
,
CPU
,
Google
,
iPhone
,
iPhone 13 Pro
,
LTPO
,
Mobile
,
OLED
,
Pixel 5
,
Pixel 6
,
Pixel 6 Pro
,
Sensor
,
Smartphone
,
Tensor
,
Voice Recognition
,
Wi-Fi 6E