While the FIFA World Cup continues to break viewing records around the globe, a new record was set during Germany's stunning 7-1 victory over Brazil in the semifinals. The match marked the most Twitter activity around a single sports event ever, easily surpassing this year's Super Bowl. At 24.9 million tweets, February's Super Bowl between the Seahawks and the Broncos set the previous Twitter record, while Tuesday night's World Cup semifinal generated 35.6 million tweets during the match.
"Before the match, the Brazil-Chile showdown during the Cup's Round of 16 led the list of most-tweeted-about games at the tournament with 16.4 million, followed by the Brazil-Croatia opening game with 12.2 million," notes The Hollywood Reporter.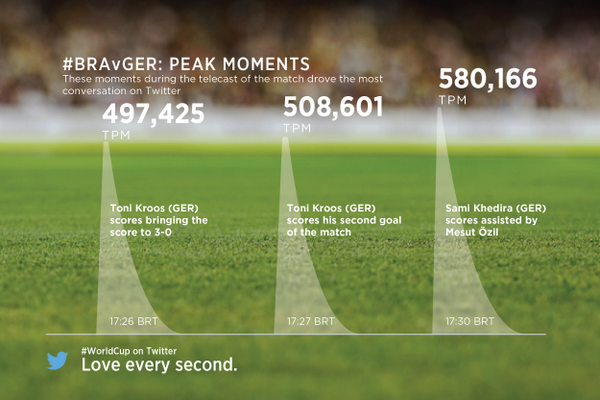 "As Brazil suffered its worst defeat in the national team's 100-year history, the social media activity peaked with 580,166 tweets per minute when Sami Khedira scored, giving Germany a 5-0 lead en route to the 7-1 final."
That easily beat the Super Bowl's previous record of 381,605 tweets per minute.
During the World Cup match, the tweets provided "pithy jokes, puns and screencaps of crying fans," reports TechCrunch. "What that says about Twitter and its ability to capitalize on things like this to propel it to greater success isn't necessarily groundbreaking for its strategy. Effectively, the company is best served by being ready for events that no one could reasonably predict, but that means at least that it can focus on product updates that make sharing in Schadenfreude as easy and effective as possible."
UPDATE:
World Cup Final Sets Twitter Record, The Hollywood Reporter, 7/13/14
Related News:
FIFA World Cup Breaks TV Viewing Records Around the World, Live Production, 6/30/14
Is Futbol Fever Here to Stay? How Technology is Increasing World Cup Viewership, Digital Dialogue, 7/2/14
American Soccer Fans Dominate FIFA's Online Audience, The New York Times, 7/1/14
USA-Belgium World Cup Game Drew 22 Million Viewers in Ratings, The New York Times, 7/2/14
Penalty Kicks, as Seen Through Twitter Data, Twitter Blog, 7/3/14
Topics:
Belgium
,
Brazil
,
Cable TV
,
Chile
,
Croatia
,
Denver Broncos
,
FIFA
,
Germany
,
Global
,
Live Event
,
News
,
NFL
,
Ratings
,
Record
,
Sami Khedira
,
Seattle Seahawks
,
Soccer
,
Social Media
,
Sports
,
Super Bowl
,
Television
,
Toni Kroos
,
TV
,
Twitter
,
Viewing
,
World Cup 2014
,
Worldwide