Content creators who relied on remote workflows through the height of COVID-19 now realize those protocols are here to stay. Centralized cloud-based data repositories are a convenient hub from which to manage the processing of sound and image throughout production. The HPA NET lunch event, "Color Grading in the Cloud: A Case Study" analyzed that critical step from the perspective of the short film "Fathead," produced by the Entertainment Technology Center@USC. "Fathead" was shot on a volume stage and uploaded from the camera to the cloud, where the entire workflow took place.
Shot in February, "Fathead" was the first project to field test Blackmagic Design's Cloud with DaVinci Resolve 18, announced in April at NAB 2022. Optimized for collaborative, cloud-based workflows, DaVinci Resolve 18 is described by Blackmagic as "the only solution that combines editing, color correction, visual effects, motion graphics and audio post production" in one software tool.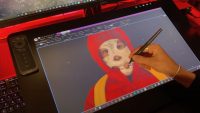 "Fathead" colorist Arianna Shining Star, of Light Iron, said she experienced no material difference to her workflow as a result of interacting with content in the cloud on this virtual production. "It was nearly the same. We were working on full-resolution, high quality files," she noted.
"Fathead" director c. Craig Patterson emphasized the importance of color to storytelling, working with Shining Star to convey an ominous air, or mystery or joy, through hue. DP Kathryn Boyd-Batstone said the nature of the LED backdrop required her to work closely with the pre-production visualization team in order to ensure the stage lighting integrated with the images on the wall.
"All the 'Fathead' signals were routed through a virtual machine, at low enough latency that the artist couldn't tell," said moderator James Blevins of Valid Essence, post production supervisor on the film. Blevins credits DaVinci Resolve 18 with "democratizing" professional quality cloud-based color grading.
Blackmagic is making a cloud version of the software — which offers RGB at 4:4:4 color — available free. This year, FilmLight also began marketing a 4:4:4 cloud version of its Baselight color grading system.
Blevins sketched out the "Fathead" set-to-cloud configuration as one in which camera cards containing 4.5K Open Gate ARRIRAW 12-bit footage were simultaneously copied to S3 and FSx storage in the cloud then down-streamed from the cloud's virtual Resolve 18 as a 10-bit 4:4:4 HEVC signal to the colorist at Light Iron. The high-speed, low-latency FSx files were the workflow files, while the S3 served as backup. Arch Platform Technologies set up the cloud studio, connecting the various Resolve editors and a color workstation through an SaaS dashboard.
"Six months ago, no one was color grading in the cloud," Arch founder and CTO Edward Churchward explained.
The discussion also included Blackmagic Design product specialist Shawn Carlson and Streambox sales and business development manager Shawn Sennett, whose company offers a proprietary media streaming solution called Spectra that supports 16-channel Dolby Atmos workflows and expects to soon announce support for Dolby Vision.
The presentation expanded to include general cloud workflow. Sennett described a client doing an editorial in Australia for a producer in Canada: "We were able to do a point-to-point utilizing Blackmagic hardware with 300 millisecond latency supporting all 16 channels of audio at 4K 12-bit 4:4:4, with a secondary signal to the cloud that a producer in London was able to review on an Apple iPad Pro utilizing all 1,000 nits, removing the tone mapping and being able to see both HDR and SDR switched through our session software."
To accommodate these burgeoning services, Sohonet chief product officer Jon Walkenhorst said connectivity basically breaks down into two tiers — one for high-level executive review, and another that relies on broadband for the final mile home.
Blevins explained that while a cloud-based approach might seem intimidating to some, it is an option for anyone with Internet access. "Now that we know this works, everyone needs to understand it so they can determine their role and how they can support it," he said.
Topics:
Arch Platform Technologies
,
Arianna Shining Star
,
Blackmagic Design
,
C. Craig Patterson
,
Cloud
,
Color Grading
,
DaVinci Resolve 18
,
Dolby
,
Edward Churchward
,
ETC@USC
,
Fathead
,
FilmLight
,
HP
,
HPA
,
James Blevins
,
Jon Walkenhorst
,
Kathryn Boyd-Batstone
,
Light Iron
,
Shawn Carlson
,
Shawn Sennett
,
Sohonet
,
Spectra
,
Streambox
,
TPN
,
Valid Essence
,
Virtual Production