Yahoo-owned blogging platform Tumblr launched a new pop culture hub yesterday that highlights top conversations from its community related to categories such as celebrities, TV shows, movies, music and video games. Since Tumblr blends online publishing tools with social features, the platform has grown popular for those who like to follow blogs and share posts. It has also become popular with fan communities, which makes the Fandometrics hub a natural fit for Tumblr — and a potential new marketing opportunity for brands.
"Fandometrics is meant to parse those posts and highlight how fandoms are growing and performing on week-by-week basis," The Hollywood Reporter explains.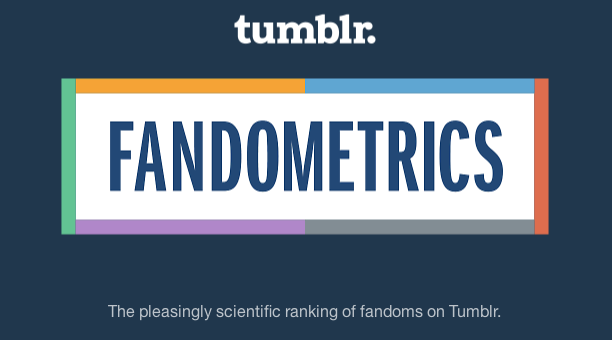 The hub, which is partnering with "Entertainment Tonight" to feature leading content in broadcasts, also intends to provide a viable mechanism for brands to engage with the Tumblr community.
"Smart social marketers are moving away from measuring success in terms of real-time conversations, instead focusing on building momentum through influential fan communities that serve as powerful brand advocates," said Sima Sistani, Tumblr's head of media. "Tumblr is the epicenter and home of fandoms, and our Fandometrics provides a colorful and meaningful glimpse into the zeitgeist."
For more, check out the Fandometrics hub.