News Corp and Facebook inked a deal that will let the social media platform license headlines from The Wall Street Journal and other Dow Jones media outlets including the New York Post for its ad-free news section. The Washington Post, BuzzFeed News and Business Insider are other publications that have reached similar arrangements with Facebook. The New York Times is in talks with Facebook, but has not revealed whether it is close to a deal. News Corp's deal was complicated by WSJ's digital subscription business model.
WSJ reports that "for nonsubscribers, links to Journal stories that are behind the site's paywall would trigger a prompt for the reader to sign up." In addition to WSJ and the New York Post, the other Dow Jones outlets licensed for Facebook are Barron's, MarketWatch, Financial News, and Mansion Global.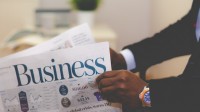 According to sources, "the licensing fees Facebook is offering range from the hundreds of thousands of dollars per year for smaller publishers to a few million for bigger ones, and substantially higher than that for the very largest outlets."
Facebook chief executive Mark Zuckerberg said he's "excited we'll have the opportunity to include award-winning journalism from The Wall Street Journal [and other U.S. News Corp properties] in our news tab."
Some headlines in Facebook's news section "will be curated by a team of editors, while others will be selected by the company's algorithm," added sources. Human editors will choose the "about 10 headlines" featured in the "Top News" section.
WSJ also inked a deal with Apple for its Apple News Plus product, in which "Apple is taking 50 percent of the subscription revenue, with the Journal and other media companies … receiving a portion of the rest based on the amount of stories read." NYT and The Washington Post "opted not to participate in the Apple deal."
Both News Corp executive chair Rupert Murdoch and BuzzFeed chief executive Jonah Peretti have urged "Facebook and Google to pay organizations that provide quality news."
"Facebook deserves credit for recognizing the principle of journalistic provenance," said News Corp chief executive Robert Thomson. "Mark Zuckerberg seems personally and professionally committed to ensuring that high quality journalism has a viable, valued future. It is absolutely appropriate that premium journalism is recognized and rewarded."
Topics:
Algorithm
,
Apple
,
Apple News Plus
,
Business Insider
,
BuzzFeed
,
Dow Jones
,
Facebook
,
Google
,
Jonah Peretti
,
Journalism
,
Licensing
,
Mark Zuckerberg
,
New York Post
,
News
,
News Corp
,
Paywall
,
Robert Thomson
,
Rupert Murdoch
,
Social Media
,
Subscription
,
The New York Times
,
The Wall Street Journal
,
The Washington Post