Just last week, Facebook announced its two new Portal video chat devices featuring 12-megapixel cameras with HD video and AI-powered software. New information suggests that the social giant is also readying a camera-equipped device codenamed "Ripley," designed to work with your TV for video calling in addition to entertainment services including Facebook Watch. According to an insider with direct knowledge of the project, Ripley — which will use the same core tech as Portal — is likely to be announced by the spring of 2019.
The countertop Wi-Fi Portal devices will launch during the upcoming holiday season priced at $199 for the smaller version with 10-inch screen and $349 for the Portal Plus featuring a 15-inch screen that can be rotated. Following the announcement, we reported that the AI is used so that the camera can follow users. Both models also include Amazon Alexa to play music or check the weather.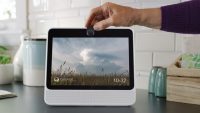 "But with Ripley, Facebook could sell a much cheaper screen-less add-on for the televisions people already have," notes TechCrunch. The potential is significant, since Facebook could release "its Portal technology in many form factors."
However, in the wake of the Cambridge Analytica scandal, the recent hack that affected some 30 million Facebook accounts, and a host of other problems related to misinformation and fake news, the company may have a challenge selling consumers on the idea of secure hardware devices that protect their privacy.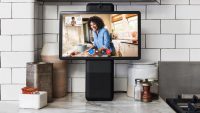 Nonetheless, the two devices represent the latest in Facebook's ongoing ambitions to expand into the consumer hardware space. In addition to Portal, Ripley, and the company's Oculus VR brand, Facebook has been working on a range of products, from an armband that translates sounds into vibrations — to a projector-based augmented reality experience.
Yet a camera-equipped TV device could make an immediate splash in today's market. "Aside from Ripley's video chat features, the device could provide Facebook an avenue to compete with the likes of Apple, Roku, and Amazon for attention on TVs," notes Cheddar. "Facebook's own Watch video service is included with Portal, and the company has said that it intends to add more streaming services over time."
If Ripley "makes it to market," adds The Verge, "Facebook would enter into another massive smart home battleground … for valuable set-top box space. Facebook's addition of a camera, which essentially turns your entire TV into a massive Facebook Portal, would be a differentiator for the current marketplace."
Topics:
Alexa
,
Amazon
,
Apple
,
Artificial Intelligence
,
Augmented Reality
,
Cambridge Analytica
,
Camera
,
Facebook
,
Facebook Watch
,
Music
,
Oculus
,
Portal
,
Portal Plus
,
Privacy
,
Projector
,
Ripley
,
Roku
,
Security
,
Smart Home
,
Social Media
,
STB
,
Streaming
,
Television
,
Video
,
Video Chat
,
Virtual Reality
,
Wi-Fi