Facebook debuted Portal and Portal Plus, two video-calling devices, which sport a 12-megapixel camera with HD video and AI-empowered software — all in the service of video chatting. The AI is used to allow the camera to follow users. Portal and Portal Plus also include Amazon Alexa to play music or check the weather. Portal, with a 10-inch screen, is priced at $199, and Portal Plus, with a 15-inch screen that can be rotated, goes for $349. The devices will debut during the holiday season on a standalone website.
The New York Times reports that, "the devices are Facebook's first major foray into designing, building and selling consumer hardware from scratch." A Portal marketing campaign will soon launch, with the hope the devices will encourage "more people to use its social network regularly to keep in touch with friends and family." But, adds NYT, the company's "timing could not be worse," since Facebook just suffered a hack that compromised at least 50 million users.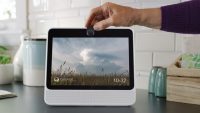 To assuage concern over Portal/Portal Plus' security, Facebook said the devices "include an electronic kill switch for the front-facing camera, as well as a cover for the lens," that the video calls are encrypted and the AI technology runs on the device, not Facebook's servers.
Portal and Portal Plus rely on household Wi-Fi and "are built atop Facebook's Messenger platform," with the communication software "hooked into a user's web of Facebook connections." Once connected to a Messenger account, Portal allows users to "video chat with anyone in their network across devices, be it on Portal, a tablet, a smartphone or a desktop computer."
In addition to consumers' concerns about security, the two Portal devices are entering a competitive smart speaker market dominated by Amazon and Google in the U.S. and Alibaba and Xiaomi in China. According to Canalys, "manufacturers shipped 16.8 million smart speakers, up 187 percent from the same period last year."
Amazon introduced Echo Show, its first product with a display, and Lenovo and Google partnered on a smart screen featuring Google's Assistant. Instead of building its own, Facebook partnered with Amazon for Portal's virtual assistant. At ABI Research, research director Jonathan Collins said the decision to collaborate with Amazon was "wise," since "there was no clear benefit for Facebook to make one of its own."
"It's not an obvious link to what they do for people at present," he added, "which is to deepen people's relationships."
Although Facebook had tackled hardware projects in the past, company vice president Rafa Camargo, who oversees Portal, "said that when his team said it wanted to work on a smart home product with a large screen, his peers reacted in disbelief — especially since Amazon and Apple were focused on speakers and not video." His response is that, because Facebook comes from a background of focusing on people, it "could offer customers a different type of experience."
Topics:
ABI Research
,
Alexa
,
Alibaba
,
Amazon
,
Apple
,
Artificial Intelligence
,
Canalys
,
Echo Show
,
Facebook
,
Google
,
Google Assistant
,
HD Video
,
Jonathan Collins
,
Lenovo
,
Messenger
,
Music
,
Portal
,
Portal Plus
,
Rafa Camargo
,
Security
,
Smart Speaker
,
Smartphone
,
Tablet
,
Video
,
Video Chat
,
Virtual Assistant
,
Wi-Fi
,
Xiaomi