The group video chat app Zoom has been No. 1 in the Apple store for more than a month, growing 740 percent in the last month, according to App Annie. The company, valued at $47 billion, now boasts 300 million daily participants. Success spurs competition, and Zoom is now in the crosshairs of Big Tech and telecommunications companies. After Facebook chief executive Mark Zuckerberg urged a focus on completing its video chat projects, the company launched Messenger Rooms for as many as 50 people.
The New York Times reports that Facebook also debuted WhatsApp video calls for up to eight people, and Facebook Dating video calls. This month, Google "made its video chat app, Meet, more accessible through Gmail," allowing users to take video calls inside their email browser window. It's also aped Zoom's use of a grid-style view for Meet and added "features to improve video quality in low-light conditions" and a noise-cancellation option for video calls.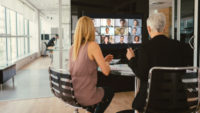 Google said that, "Meet use was up more than 25 times what it was in January, with more than two million new user sign-ups every day." Cisco recently promoted its Webex teleconferencing service and Verizon is purchasing teleconferencing service BlueJeans Network. Epic Games video chat app Houseparty is also growing, with "in recent weeks, more than 50 million people" signing up.
NYT notes that, "in targeting Zoom, the tech behemoths are following a playbook of deploying their vast resources to outmuscle a smaller, fast-rising competitor," pointing to last year's competition with Chinese app TikTok. Since Zoom has been plagued with security and privacy issues, one way that they are competing is to tout their superior features.
Cisco vice president Javed Khan, who stated that Webex added 240,000 new users in 24 hours at one point, noted that, "as the largest enterprise security company in the world, we're helping our customers connect and collaborate, securely." Verizon also stated that "having secure, reliable and high-quality collaboration tools like BlueJeans is essential."
The Wall Street Journal reports that Facebook's Messenger Rooms is "an invitation-based group video chat that can accommodate up to 50 people, along with additional video options for gamers and singles looking to chat with matches on Facebook Dating." Facebook also expanded Messenger Kids to new countries.
Zuckerberg noted that the products were "an effort to address the new reality of social distancing … [which] we're going to be dealing with … for quite some time to come." Zuckerberg compared Messenger Rooms, where users maintain "continuously open chats," as "a casual social gathering people visit." It added that Messenger Rooms is a venue to "host celebrations, gather a book club or just hang out on the couch with friends."
In Italy, hard hit by the coronavirus, video calling skyrocketed 1,000 percent, and Facebook "now says that more than 700 million people use one of its voice- or video-calling options each day."
Related:
Our Ingenuity Shapes Facebook, The New York Times, 4/24/20
Facebook to Launch 'Virtual Dating' Over Messenger for Facebook Dating Users, TechCrunch, 4/24/20
Topics:
App Annie
,
Apple App Store
,
Apps
,
BlueJeans Network
,
Cisco
,
Coronavirus
,
Epic Games
,
Facebook
,
Facebook Dating
,
Gmail
,
Google
,
Google Meet
,
Houseparty
,
Javed Khan
,
Mark Zuckerberg
,
Messenger Kids
,
Messenger Rooms
,
Privacy
,
Security
,
Social Distancing
,
Social Media
,
TikTok
,
Verizon
,
Video Calls
,
Video Chat
,
Webex
,
WhatsApp
,
Zoom