Facebook debuted Facebook Showcase, a premium video-ad program to let buyers for online video/TV ads nail down guaranteed rates and impressions up to one year in advance. With the program, Facebook makes a more aggressive move into upfront buys for its content; its previous program only let advertisers buy video ads one quarter in advance. The Showcase program, which is now only available for ad campaigns aimed at U.S. audiences, coincides with the company's increase in original content for its Watch video service.
Variety reports that Facebook most recently picked up "Human Discoveries," an animated comedy with Anna Kendrick and Zac Efron, to debut later this year. "Stephen vs. The Game," a six-part docu-series starring the NBA's Stephen Curry, is also slated to debut soon, as well as "reboots of MTV's 'The Real World' in the U.S., Mexico and Thailand."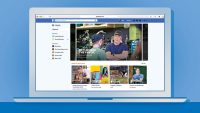 Facebook Showcase also includes content from CBS, WWE, BuzzFeed, Refinery29 and many other third-party publishers and individual creators. The inventory in Showcase, which Facebook calls In-Stream Reserve, draws "on average, nearly 100 million U.S. Facebook users per month … across Watch, Newsfeed and Pages."
Warner Bros. executive vice president of digital marketing Andrew Hotz reported that his studio's "use of In-Stream Reserve inventory on Facebook on a recent film campaign drove a 45-point incremental lift in ad recall." Facebook head of U.S. agency sales Erik Geisler stated that, "every single piece of content included in the program's inventory is human-reviewed before it's eligible for monetization." "Brand safety is the product," he said. His remarks are intended to separate the company's policies from those at YouTube, which has had problems with placing ads against "objectionable content."
Rather, Facebook Showcase "is similar to Google Preferred, YouTube's premium-advertising program that provides inventory across top content creators in specific categories." Facebook said it can "better reach younger-skewing audiences that have been disappearing from linear TV … [revealing that] over the past three months, 43 percent of Facebook users in the U.S. who watched In-Stream Reserve-eligible content on Facebook were 18-34." According to Nielsen research, "that's compared with 28 percent of linear TV viewers in the age demo."
Also similar to Google Preferred, "Facebook's program will let marketers target topical categories," which include sports, fashion/beauty, entertainment, food and news. Advertisers can also choose to be "the exclusive sponsor of a specific show for U.S. viewers." At Universal McCann, which is testing the program, chief investment officer Jon Stimmel said that he believes Facebook Showcase could provide "high-quality, celebrity-driven storytelling that is going to be compelling … [but that] transparency is fundamental."
Topics:
Advertising
,
Andrew Hotz
,
Anna Kendrick
,
BuzzFeed
,
CBS
,
Erik Geisler
,
Facebook
,
Facebook Pages
,
Facebook Showcase
,
Facebook Watch
,
Google Preferred
,
In-Stream Reserve
,
Jon Stimmel
,
MTV
,
Newsfeed
,
Nielsen
,
Refinery29
,
Stephen Curry
,
Universal McCann
,
Upfronts
,
Warner Bros.
,
WWE
,
YouTube
,
Zac Efron