Facebook is introducing three Portal models, starting at $129, a more competitive price than previous models. Two offer a smart display with screen, camera and microphone, and the third can turn a TV into a venue for video chat. The first Portal offered AI-enabled tracking that kept all the participants in the frame and could follow a single person. The AI has been upgraded to provide more accuracy. Although the company "paused" human review of audio, it will resume the practice for some Portal audio.
Wired reports that the new AI technology can distinguish a person by the color of his clothes and that, "the device's ability to track people's body's could one day be used to add interactive features, such as new video games."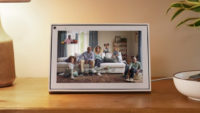 In addition to the built-in Alexa, available for all Portals, Facebook added support for WhatsApp. It will also be available outside North America for the first time, in the U.K., Spain, France, Italy, Australia and New Zealand. Other features include filters that can give a participant "fuzzy ears or oversized spectacles," and power Story Time, which "merges a caller's face into the illustrations from a children's book as they read along."
Andrew Bosworth, who heads up Facebook's hardware division, said that, because Portal's algorithms follow the movement of the entire body, it could enable more augmented reality uses in the future, such as interactive games.
With regard to privacy, Bosworth noted that "all the AI processing used to track the pose of people using a Portal takes place on the device, not by sending data to Facebook … [and] the devices have switches to cover their cameras and deactivate their microphones." Electronic Privacy Information Center consumer protection counsel Christine Bannan suggested treating "Facebook's privacy promises and Portal devices with circumspection."
Bloomberg reports that, although Facebook paused human review of audio last month, "Portal is now reinstating human audio transcriptions but will offer consumers an option to turn off that service in a new version of its Portal software, which will be distributed to existing devices and its updated Portal lineup shipping in October."
Bosworth noted that the Messenger transcriptions are still on hold, because "the data is coming in from a different place … and therefore you have a different kind of user expectation." Apple and Google have suspended their human transcription programs also, due to privacy concerns. Bosworth said Facebook is reinstating it "because it's important for training the company's software programs to accurately understand requests."
Portal's data usage policy does say that it collects "voice queries and commands" after a user wakes up the device, but "does not say that those audio clips may be reviewed by third-party contractors."
Related Video:
Hands-On With Facebook's Portal TV, TechCrunch, 9/18/19
Topics:
Alexa
,
Andrew Bosworth
,
Apple
,
Artificial Intelligence
,
Audio
,
Augmented Reality
,
Body Tracking
,
Christine Bannan
,
Electronic Privacy Information Center
,
Facebook
,
Facebook Portal
,
Filters
,
Google
,
Messenger
,
Portal
,
Smart Displays
,
Smart Speakers
,
Social Media
,
Story Time
,
Video Chat
,
Video Games
,
WhatsApp