"How will advances in network technology over the next 36 months impact the way we watch movies, play video games, and create and produce immersive and engaging experiences?" was addressed during the first "ETC Executive Coffee with…" Zoom session. The September 23rd meeting was hosted by Albert Lao, executive director of solutions architecture for the Americas, Verizon Business Group, who took time to speak with a group of USC students. After a short video describing Verizon's plans for 5G and edge computing, Lao led a discussion on the future of streaming media, the post-pandemic theatrical experience, immersive media, and other topics related to entertainment and technology. You can watch a 22-minute highlight reel of the one hour discussion or start with a 4-minute preview video.
Throughout the conversation Lao provided compelling history and context to the key topics. The students ranged from freshmen to graduate students attending USC's cinema, business and engineering schools. They were selected to participate based on their statements of interest.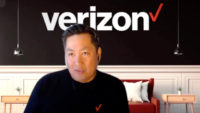 The Entertainment Technology Center at USC is producing a series of these virtual coffee discussions that bring students and ETC member company executives together to discuss topics of mutual interest during this period of remote learning and social distancing. This Verizon session is the first of eight currently planned for the Fall semester at USC.