A day after the opening of James Bond film "No Time to Die" was pushed to April 2, 2021, Cineworld stated it was considering closing 536 Regal Cinema theaters across the United States and 127 Cineworld and Picturehouse Cinemas locations in the United Kingdom. Now, Cineworld has confirmed the temporary suspension of its U.S. and UK operations starting Thursday, October 8, blaming the lack of new films in the pipeline. Cineworld is the UK's biggest cinema operator and the second largest chain in the U.S. The closure will impact about 45,000 employees.
Variety reports that Cineworld allegedly wrote UK Prime Minister Boris Johnson and Culture Secretary Oliver Dowden to explain that movie exhibition is currently "unviable" due to the tentpole film delays. The employee collective, Cineworld Action Group, which is supported by entertainment union Bectu, tweeted that staff had not been consulted about the closure.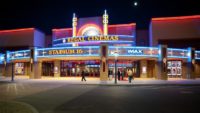 In the UK, Cineworld reopened theaters on July 31 after a four-month shutdown, and in the U.S., Regal Cinemas began opening theaters in late August, just before director Christopher Nolan's "Tenet" was released. The film did not perform as hoped in the U.S., encouraging other producers to delay debuts.
Cineworld chief executive Mooky Greidinger stated that, "this is not a decision we made lightly, and we did everything in our power to support safe and sustainable re-openings in all of our markets." Sources reported that the Regal Cinemas will likely not reopen until 2021. The Regal closure came as "a complete surprise to the company's employees, whose UK staff found out about their potential job losses late on Saturday night in a preview of a Sunday Times front page."
The Wall Street Journal reports that when "Tenet" finally debuted, only two-thirds of U.S. domestic theaters were open, due to various state and local guidelines. Its performance "led Hollywood studios to recoil from releasing costly films for now," which is why Warner Bros. moved "Wonder Woman 1984" to Christmas Day and Disney pushed 10 titles forward, including Marvel's "Black Widow."
Last week, the National Association of Theatre Owners (NATO) sent a letter to Congress seeking financial relief, stating that, "if the status quo continues, 69 percent of small and midsize movie theater companies will be forced to file for bankruptcy or to close permanently."
Box Office Mojo reported that "Tenet" grossed $243.7 million from international markets. WSJ notes that, "without big-budget titles, theaters have largely been forced to screen smaller independent films and older movies." One source stated that the closures "could affect the employment status of 45,000 workers."
Cineworld reported last month that, between January and June, revenue fell almost 70 percent compared to the same period in 2019, to $712.4 million.
Topics:
Bectu
,
Black Widow
,
Boris Johnson
,
Box Office Mojo
,
Christopher Nolan
,
Cineworld
,
Cineworld Action Group
,
Congress
,
Disney
,
Exhibition
,
James Bond
,
Marvel
,
Mooky Greidinger
,
Movies
,
NATO
,
No Time to Die
,
Oliver Dowden
,
Picturehouse Cinemas
,
Regal Cinemas
,
Tenet
,
Warner Bros.
,
Wonder Woman 1984