Several augmented reality devices debuted at CES this week, but Epson's Moverio BT-200 offers one of the more complete experiences to-date. The glasses run Android 4.0 from a wired smartphone-like controller and provide a full-color image in the center of the user's field of view. Sensors for the device include a camera, accelerometer, gyroscope, microphone and compass. The product is not consumer ready, but priced at less than half that of Google Glass ($699.99), it is a promising platform for developers to build an app library for AR.
The current version of the glasses consist of two thick, transparent lenses that reorient an image projected from small 16:9 LCD panels hidden in the frame into an 80-inch image at a distance of 5 meters. The glasses are transparent and can be worn over prescription lenses or augmented with darker lenses to provide a more immersive experience.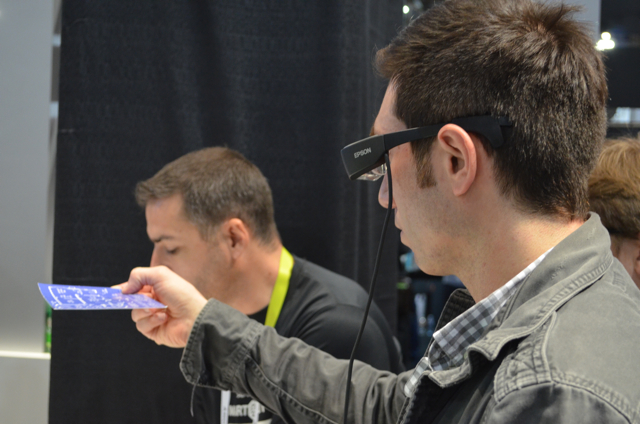 Epson invited several developers to its booth to demonstrate the device's capabilities. Among the demonstrations were a 3D model of a house projected on a card that could be manipulated by moving the paper and a to-scale wireframe model of the exhibit hall that could be explored by walking around. The company also had versions equipped with video games and Netflix.
These type of AR glasses provide a solution between Google Glass or Sony's monochromatic AR overlay and the fully immersive virtual reality experience provided by devices like the Oculus Rift. The Moverio and a similar set of AR glasses by Osterhout Design Group (ODG) represent a significant step forward for AR, akin to what Oculus has done for VR.
Topics:
2015 CES
,
3D
,
Accelerometer
,
Android
,
App
,
Augmented Reality
,
Camera
,
CEA
,
Developer
,
Epson
,
Game
,
Glasses
,
Google Glass
,
Gyroscope
,
Immersive
,
Las Vegas
,
LCD
,
Microphone
,
Moverio
,
Netflix
,
Oculus Rift
,
Osterhout Design Group
,
Sensor
,
Smartphone
,
Sony