U.S. District Judge Yvonne Gonzalez Rogers ruled that Epic Games can maintain access to Apple's Developer Tools but that its game "Fortnite" will stay out of its App Store. "Apple has chosen to act severely, and by doing so, has impacted non-parties, and a third-party developer ecosystem," wrote the judge. Epic Games founder and chief executive Tim Sweeney is battling Apple and Google over their app store commissions. Apple's response to the ruling was to state it looked "forward to making our case to the court in September."
The Wall Street Journal reports that, "Apple planned to revoke Epic's access to tools needed to distribute and update software across its devices on Friday unless Epic removed the mobile-payment system it introduced in 'Fortnite,' which skirted Apple's 30 percent commission on in-app purchases." Epic reports that "Fortnite" has 350+ million players globally.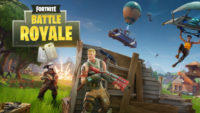 As a result of the judge's ruling, when Epic releases the game's next season this week, players using an iPhone or iPad won't be able to download it. The next hearing is scheduled for September 28.
At the court hearing, Gibson Dunn & Crutcher partner Richard Doren stated that Epic is "willfully breaching a contract and thus responsible for its customers' plight." Epic's attorney Katherine Forrest, at Cravath Swaine & Moore, said that its August 13 lawsuit was the company's "only way to try and break the chokehold that Apple has on its payment system, and it's a prohibition on any kind of competition."
WSJ says, "the legal battle could have wide implications in the global market for mobile apps, which last year reached $120 billion in consumer spending, according to App Annie." It could also change "how app stores and developers divvy up sales for paid downloads and virtual goods — or how apps accept payments all together."
Microsoft, Facebook and Spotify are among other companies that "have criticized Apple and Google for the power they wield in their app stores." Microsoft issued a statement supporting Epic, "saying that restrictions on Epic could hamper its game-development business." In addition to hearing the Epic/Apple case, Judge Gonzalez Rogers will also hear "a 2019 case brought by app developers who claimed the iPhone maker's App Store operations violated federal antitrust law."
The New York Times reports that Sweeney has been "preparing for a protracted legal battle after Apple and Google banned 'Fortnite'." He has crusaded against these companies for many years. "He sees a vision of the world that is fair and open," said Lightspeed Venture Partners' Bradley Twohig.
Sweeney says he is "fighting for open platforms and policy changes equally benefiting all developers." Epic president Adam Sussman added that, "I don't think we are going to be swayed unless we get what we think is right."
Many of Epic's investors and former executives as well as game industry analysts support Sweeney, but "few expected him to prevail in all of his demands against Apple and Google." In 2018, Epic debuted its own app store where it charges developers a 12 percent fee for selling their products.
Related:
Fortnite Splits into Two Different Games Tomorrow Because of Epic and Apple's Fight, The Verge, 8/26/20
Topics:
Adam Sussman
,
Antitrust
,
App Annie
,
App Store
,
Apple
,
Bradley Twohig
,
Cravath Swaine & Moore
,
Epic Games
,
Facebook
,
Fortnite
,
Gibson Dunn & Crutcher
,
Google
,
In-App Purchase
,
iPad
,
iPhone
,
Katherine Forrest
,
Lightspeed Venture Partners
,
Microsoft
,
Richard Doren
,
Spotify
,
Tim Sweeney
,
Yvonne Gonzalez Rogers