The battle between Apple and Epic Games over the former's commission fees for games sold in its App Store has heated up. Apple and Google both tossed Epic Games' "Fortnite" from their app stores after Epic debuted an in-app payment system that prevented both companies from reaping 30 percent of customers' spending. Epic Games filed a lawsuit, and Apple just filed a countersuit, accusing the software developer of "duplicity and greed" and asking a judge for punitive damages. Epic Games has seen its iOS- and Mac-based usership plunge.
The Wall Street Journal reports that Epic also "filed a motion Friday seeking to get 'Fortnite' back in the App Store," with a hearing scheduled for September 28. Sensor Tower reported that, in the first seven months of 2020, Apple's App Store "generated nearly $39 billion in global revenue from in-app purchases, subscriptions and premium apps." Debuted in 2008, the App Store has "about one billion customers from 175 countries."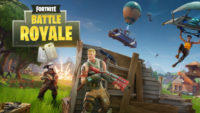 Epic Games is just one in a line of vendors and companies including Microsoft and Spotify that have complained about Apple's App Store fees, and Apple "is facing antitrust probes from governments in the U.S. and Europe."
In its own filing, "Apple sought to portray itself as a victim of plotting by Epic," alleging that the company had been planning a "calculated and pre-packaged campaign" against it. Apple reported that Epic's "Fortnite" has been downloaded almost 130 million times and that the company "has earned more than $600 million from its relationship with Apple." Epic Games also charges a commission in its own app store, but only takes 12 percent.
Bloomberg reports Epic Games stated that, since "Fortnite" has been blocked on Apple's App Store, users on its iOS operating system have plummeted by 60+ percent. It added that, "more than 60 percent of 'Fortnite' users on iOS access 'Fortnite' only on Apple devices." Epic stated that, "more than 116 million registered users have accessed 'Fortnite' through iOS — more than through any other platform."
Variety reports that Epic Games has made Fortnite Spotlight live music performances a "regular part" of the game, but the concerts, held on the game's Party Royale island, will not be available on iOS or Mac devices. The music series kicks off with singer-rapper-songwriter Dominic Fike, who will be broadcast live in-game from the Party Royale Spotlight sound stage in Los Angeles on September 12 (with two repeat airings). The concerts will be shown without ads or sponsorships, free to any "Fortnite" player.
Epic has lined up two not-yet-named performers for shows on September 19 and 26. "The plan is to make the concerts an ongoing attraction," said Epic Games head of global partnerships Nate Nanzer. "Given the state of the world, artists are having trouble connecting with fans. We're creating this platform to work with artists — big artists and up-and-coming artists."
Nanzer reported that, in the future, artists will be able to "leverage Epic's Unreal Engine to weave in augmented-reality effects."
Related:
Apple Seeks Damages From Epic Games Over 'Fortnite' Contract Breach, Engadget, 9/8/20
'Fortnite' Maker Asks Judge Again to Return Game to Apple's App Store, The Wall Street Journal, 9/5/20
Fortnite Says Gamers Can No Longer Use Apple Sign-In System, Reuters, 9/9/20