Senator Elizabeth Warren (D-Massachusetts) aims to be the Democratic Party's candidate for the 2020 U.S. presidential election, but she just alienated Silicon Valley when she proposed to break up tech companies that generate more than $25 billion in online revenue. Her rationale is that companies such as Amazon, Facebook and Google have become too big and too powerful, squashing small businesses and innovation, and more focused on their financial well-being than "the broader interests of the American people."
Recode reports that Warren also wants to break up already completed mergers, including those between "Facebook and Instagram, Amazon and Whole Foods, and Google and DoubleClick." She dubbed companies that control "an online marketplace, an exchange, or a platform for connecting third parties," as a "platform utility," which should be held to strict data sharing regulations.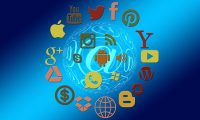 Warren isn't alone in suggesting the big tech companies be broken up. During Facebook chief executive Mark Zuckerberg's testimony at congressional hearings last year, "a number of U.S. politicians suggested the company is too big." Zuckerberg has pushed back that such a move would "pave the way for international competitors, like those from China."
The Guardian reports that several Democratic presidential hopefuls spoke at SXSW in Austin, Texas. Senator Amy Klobuchar said that, "she wanted to investigate how tech firms such as Facebook and Google have monopolized power and obtained vast amounts of user data." "The first thing we do is privacy legislation," said Klobuchar. "Second thing we do is look at how much they're making off of us."
In a later talk, Warren described the situation as "a little like baseball." "You can be an umpire, a platform, or you can own teams, that's fine," she said. "But you can't be an umpire and own teams."
The Washington Post adds details to Warren's comments at SXSW. "We want to keep the marketplace competitive, not let a giant who has an incredible information advantage have a manipulative advantage," she said. "When someone gets market dominance, they then start to destroy competition in the very world that gave them birth."
Although SXSW is a hotbed of tech startups, this year's version "became a place for Democrats to talk about all the rules capitalism was missing." Journalist Kara Swisher asked Klobuchar if "Facebook and Google should be allowed to buy anything big now," and the political candidate didn't say yes, noting that, "we've got to look carefully at all of these deals."
Another would-be presidential candidate, former U.S. Secretary of Housing and Urban Development Julián Castro, said Warren's plans are worth considering, adding that, "we have to be much stronger in terms of antitrust enforcement." "I don't understand how Amazon made $11 billion in profit last year, paid no federal taxes, and at the same time, New York was about to offer them a $3 billion package to locate their second headquarters," he said.
Former Colorado governor John Hickenlooper, who is also vying to be the Democratic presidential candidate, agreed that, "it was time to think about cracking down on monopolies and mergers."
Related:
Facebook Proves Elizabeth Warren's Point by Deleting Her Ads About Breaking Up Facebook, The Verge, 3/11/19
Don't Break Up Big Tech – Regulate Data Access, Says EU Antitrust Chief, TechCrunch, 3/11/19
Topics:
Amazon
,
Amy Klobuchar
,
Antitrust
,
Data Sharing
,
DoubleClick
,
E-Commerce
,
Elizabeth Warren
,
Facebook
,
Google
,
Instagram
,
Internet
,
John Hickenlooper
,
Julián Castro
,
Kara Swisher
,
Mark Zuckerberg
,
Massachusetts
,
Mergers
,
Monopoly
,
Privacy
,
Silicon Valley
,
Social Media
,
SXSW
,
Texas
,
Whole Foods