Google Chrome has the potential to follow mobile as a second significant disruption to computing. With Chrome, Google is making a move to dominate computing as an entry to a new app economy. Kevin C. Tofel, writing for GigaOM, suggests that within a year, many of us will be using a Chromebook — but not necessarily "Google-designed hardware; instead it will be on the Mac, Windows or Linux machine you have at that time."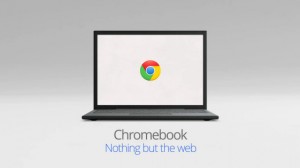 Google launched Chrome in 2008 for Windows. Since 2010, at which point all three major operating systems had a stable version of the browser, its usage has continued to grow and now it leads in usage share of desktop browsers.
"For many Chrome is just a browser," writes Tofel. "For others who use a Chromebox or Chromebook, like myself, it's my full-time operating system. The general consensus is that Chrome OS, the platform used on these devices, can only browse the Web and run either extensions and Web apps; something any browser can do. Simply put, the general consensus is wrong and the signs are everywhere."
Tofel notes the emphasis placed on packaged apps and native client apps during the recent Google I/O developers conference.
"Packaged apps are written in HTML, JavaScript and CSS, just like a traditional website or Web app," he writes. "There's one subtle difference though. These apps are 'packaged' in a way that allows them to run outside of the Chrome browser on any device that has Chrome installed. And they can run when the user is offline."
"Native client apps are similar in that they're also packaged and they support offline access," he adds. "There's a key difference however: These apps are coded in their native programming languages — C or C++ for example — compiled and then embedded in HTML where they behave like standalone native apps. Google says there's about a 5 percent overhead performance hit, so they're not quite as fast as their native app counterparts."
What makes this compelling is that packaged apps and native client apps work on any computer running Chrome, which is now the browser with the biggest market share.
"Even better, Google is working on Portable Native Client, which extends the native client app support to mobiles," explains Tofel. "Meanwhile, at Google I/O, the company said these apps can work on mobiles through Apache Cordova, a set of cross-platform APIs that support iOS, Android, BlackBerry, Windows Phone and more."
"If you're a Chrome user today, you'll be more immersed in the Chrome ecosystem a year from now, even if you don't have an 'official' Chromebook," he concludes. "This all depends on how well Google pulls off its strategy to upend the desktop computing world, but so far, it seems to be on track. Bear in mind the apps in this vision will be truly cross-platform as they'll run on any Windows, Mac or Linux computer with Chrome installed."
Other Google News:
Google's Eric Schmidt Says Hollywood's Storytelling Wins in The New Digital Age, The Hollywood Reporter, 5/24/13
Google Said to Face New Antitrust Probe Over Display Ads, Bloomberg, 5/24/13
Google Copies Amazon's Playbook, Wall Street Journal, 5/23/13
Inside Google's Secret Lab, Businessweek, 5/22/13
Treading Carefully, Google Encourages Developers to Hack Glass, MIT Technology Review, 5/15/13
Topics:
Android
,
API
,
App
,
Apple
,
Apps
,
BlackBerry
,
Browser
,
Chrome
,
Chromebook
,
Chromebox
,
CSS
,
Disrupt
,
Disruption
,
Forecast
,
Google
,
HTML
,
iOS
,
JavaScript
,
Linux
,
Mac
,
Microsoft
,
Prediction
,
Trend
,
Windows
,
Windows Phone