According to first quarter reports, revenue from digital movies has grown 43 percent since last year, bringing in $330.25 million for the home entertainment industry. However, that number is still dwarfed by the revenue from disc sales. Even though disc sales dropped 13.7 percent, they still account for $1.82 billion in consumer spending on DVDs and Blu-ray discs. Revenue from subscription streaming is up 26.5 percent to $928.6 million.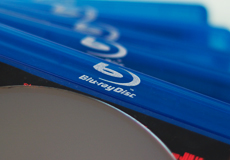 Overall, total consumer spending on home entertainment is down about 3.8 percent from last year. The $4.53 billion from Q1 this year is less than the $4.71 billion from the same time in 2013. "By comparison, the box office value of titles that came to video during that period was off 3.5 percent," reports Variety.
Other factors may have contributed to the home entertainment industry's losses in Q1 as well. Easter, which is normally one of the busiest shopping periods of year, did not fall within this year's Q1 dates. The blockbuster movie "Frozen" also wasn't released on DVD until the last weeks of Q1.
All forms of revenue from rentals, including disc rentals from subscription services, automated kiosks, and traditional stores, have decreased. Since the fall of Blockbuster, consumers have turned less to the few remaining independent stores and chains that still rent videos.
Revenue from rental stores was down 33 percent from last year. Rental kiosks such as Redbox are only down 5.5 percent to an estimated $469.5 million. Disc subscription rentals fell 17 percent to $224.6 million.
Blu-rays are also gaining in popularity. With the 4.2 million additional players sold in Q1, a total of 75 million U.S. households have Blu-ray compatible devices, including BD set-top players, PS3s and PS4s, Xbox Ones, and HTiBs.
Topics:
Automated
,
Blockbuster
,
Blu-ray
,
Box Office
,
Consumer
,
DEG
,
Device
,
Digital HD
,
DVD
,
Easter
,
Entertainment
,
Film
,
First Quarter
,
Frozen
,
Game
,
Gaming
,
HD
,
Home
,
HTiB
,
Kiosks
,
Movie
,
Netflix
,
Player
,
PS3
,
PS4
,
Q1
,
Qi
,
Redbox
,
Rental
,
Rental
,
Revenue
,
Sales
,
Spending
,
STB
,
Stores
,
Stream
,
Streaming
,
Subscribe
,
Subscription
,
Trend
,
Variety
,
Video
,
Xbox
,
Xbox One