Insider Intelligence forecasts that 2023 will mark the first time since 2014 that the combined digital advertising market share for Meta Platforms and Alphabet will fall below 50 percent, indicating erosion of their "duopoly." Projection of a 2.5 percent drop due to increased competition from rivals including Amazon, Apple, TikTok and Microsoft will put the pair at a projected 48.4 percent this year, according to the research group. While the trajectory is likely to garner negative media and investor attention, it is a plus from the perspective of fending off global antitrust attacks.
Accordingly, head of advertising at Alphabet's Google, Jerry Dischler, told the Financial Times that "fierce rivalry from new entrants reflects an 'extremely dynamic ad market.'"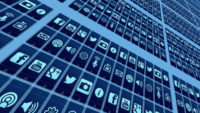 FT reports that the pair's predicted 2023 contraction "will mark the fifth consecutive annual decline for the duopoly, whose share of the market has fallen from a peak of 54.7 percent in 2017 and is forecast to decline to 43.9 percent by 2024." Worldwide market share for Alphabet and Meta — parent of Facebook and Instagram — was estimated by Insider Intelligence at 49.5 percent for 2022, a 1 percent decline year over year.
"Amazon and Apple have expanded their advertising teams" while "in July, Netflix announced it would partner with Microsoft to build an advertisement-supported tier of its streaming service," FT points out, noting that Meta CEO Mark Zuckerberg "has blamed recent revenue falls on Apple's privacy changes that make it harder to track users and target advertising, as well as the growing popularity of viral videos app TikTok, owned by Chinese parent ByteDance."
"Four years ago, you wouldn't be talking about either [TikTok or Amazon] in advertising. So it's really telling that more and more people are acknowledging that advertising is a great and scalable business model," FT quotes Dischler saying.
While Meta and Alphabet "still tower over digital rivals" when it comes to advertising revenue, "their momentum is starting to slow as competition moves in," Axios writes, adding that "the duo's ad dominance has for years made both companies the target of antitrust investigations and lawsuits."
Digital ad firm Undertone's COO Paul Prior tells FT that retail giants like Amazon realized customer data collection "could be the basis for a massive advertising business with higher margins than the sale of goods online," while Apple has also emerged as a particularly aggressive new threat, with ad revenues swelling from "under $2.2 billion in 2018 to more than $7 billion this year."
Gizmodo reports that Apple's 2021 changes to ad settings — which made most customer data insights for iPhone users private — resulted in a $10 billion loss for Meta.
Related:
Google and Meta's Advertising Dominance Fades as TikTok, Streamers Emerge, The Wall Street Journal, 1/3/23
Forecast 2023: Ad Spending Will Slow Down Next Year but Will Continue to Grow, Forbes, 12/8/22
Here Are the 2022 Global Media Rankings by Ad Spend: Google, Facebook Remain Dominant — Alibaba, ByteDance in the Mix, Digiday, 12/13/22
Social Network Ad Spending Forecast, Insider Intelligence, 12/13/22
Tech, Retail, and Streaming Companies to Make Stronger Play for Digital Ad Dollars in 2023, Insider Intelligence, 12/19/22
Google Expanded and Contracted in 2022, Insider Intelligence, 12/28/22
What Trends Will Dominate 2023?, Insider Intelligence, 12/30/22
Topics:
Advertising
,
Alphabet
,
Amazon
,
Antitrust
,
Apple
,
ByteDance
,
Digital Advertising
,
Facebook
,
Google
,
Insider Intelligence
,
Instagram
,
iPhone
,
Jerry Dischler
,
Lawsuit
,
Mark Zuckerberg
,
Meta Platforms
,
Microsoft
,
Netflix
,
Paul Prior
,
Privacy
,
Social Media
,
Streaming
,
Targeted Advertising
,
TikTok
,
Undertone
,
Video