Last week we reported that Verizon Communications had scheduled a board meeting to discuss the possible acquisition of Vodafone's 45 percent stake in Verizon Wireless, a deal that would be the second-largest acquisition on record and potentially lead to additional mergers across the global telecom industry. Vodafone confirmed late yesterday that terms of the deal call for Verizon to pay $130 billion. If approved by both boards, the deal could be announced as early as this afternoon.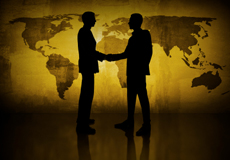 According to The Wall Street Journal: "Vodafone's board met over the weekend and approved in principle the sale of the stake, according to a person familiar with the situation. The company's board continues to deliberate some details of the transaction, and any final decision would be contingent on what Verizon's board decides, this person said."
Based on terms of the deal, Verizon would pay approximately equal portions of cash and stock. The company's board was expected to meet after hearing the results of the Vodafone meeting.
According to Dealogic, the $60 billion cash component of the deal (if approved) would be the largest amount of cash ever deployed in an acquisition. In 2008, InBev paid $50 billion to acquire U.S. brewer Anheuser-Busch.
"The acquisition would be the second largest ever behind another Vodafone deal — the $172 billion acquisition of Mannesmann AG in 1999," notes WSJ. "It would cement Verizon's control of the country's biggest wireless operator and tilt the company further away from its regulated, unionized past."
We'll provide additional details as they unfold. For more information regarding the possible impact of the deal on the global communication industry, visit last week's post: Verizon-Vodafone Deal Could Potentially Upend Telecom Market.
Topics:
Acquire
,
Acquisition
,
Anheuser-Busch
,
Broadband
,
Business
,
Cable
,
Cash
,
Dealogic
,
Europe
,
Global
,
Impact
,
InBev
,
Mannesmann
,
Meeting
,
Mobile
,
Operator
,
Phone
,
Purchase
,
Regulation
,
Stock
,
Telco
,
Telecom
,
Transaction
,
UK
,
Union
,
United Kingdom
,
Verizon
,
Vodafone
,
Wireless